A Guide to Successful Content Curation

Looking for an easy way to get in front of your prospects and get hired by them?
The trick you're about to learn is known as content curation. And today, you'll get the full rundown on what it is, how to do it to get great results, and why marketers need your help.
So let's get down to learning.
Content Curation is Not Your Average Marketing Tool
Your first question may be, what is content curation? Well, according to Hootsuite, content curation is: "the act of sorting through large amounts of content on the Web and presenting the best posts in a meaningful and organized way."
You find content that pertains to your audience (Identify), give your opinion on the same (Organize), and share it on different channels (Share).
GetCurata illustrates this New Online Marketing Process in the following diagram: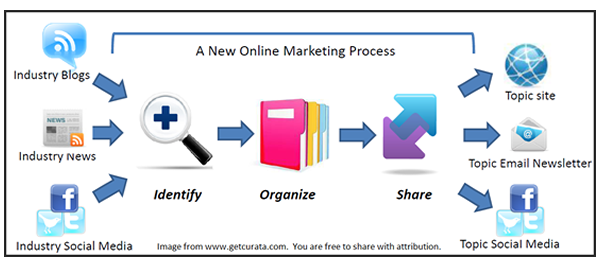 This gives you a general idea of just how powerful content curation can be when you pull it all together and publish it under specific headings.
Just to be clear, you're not creating new and fresh content; you're using what has already been created to bring knowledge to others.
Many popular blogs such as Buffer and Hubspot make content curation a part of their regular strategy (others call it Link Roundup). And content curation is not stealing: once you've identified a piece of value to add to your post, you give full attribution to the writer/owner. You always have to give credit where credit is due!
Why Content Curation is Important to B2B Marketers
54% of B2B marketers cited creating engaging content as a major issue for them, according to research by Content Marketing Institute and MarketingProfs. And guess what? One way B2B marketers can create engaging content is through content curation.
There are documented benefits to curating content, such as:
Increases traffic to a website
Helps build brand awareness
Lessens the pressure of creating fresh, relevant content every day
Increases the ability to produce content at a faster rate
Options to use content as "bait pieces" to convert visitors
You can see why this is also something marketers desperately want to learn how to do successfully!
How You Can Help
According to MarketingProfs, some marketers spend way too much time curating content, sometimes hours (especially when they are on three or more channels online), which takes away from the other tasks they have as well.
Marketers definitely need the help of content curators to provide original, valid, relevant, and unbiased content with proper Search Engine Optimization to get better visibility on the Internet.
Yet, finding trained B2B content professionals plagues B2B marketers. What if you could just incorporate something they really like in a post, mention how it relates to their business, and express their opinion on the same?
It's all about curating unique content, such as:
Newsletters
Videos
Infographics
Apps
Slide shows
Cartoons
Blog Posts
And of course, the topics must be those your audience is interested in. And whatever you do, always show how the curated content can fulfill one of the benefits mentioned above, such as increased web traffic and brand awareness.
Where to Find Real Powerful Resources
Googling topics is a time-consuming and lengthy process. The Web is filled with a plethora of apps and websites you can sign up for that will help you find relevant information that speaks to your target audience.
Try the following tools and apps:
This list is by no means exhaustive, but it's a good launching pad for you as you start your content curation career.
How to Use This Skill to Your Advantage
First, learn to curate the right way. Do this by employing the use of a content curation calendar (an excellent resource) recommended by Heidi Cohen to help you create a structure when implementing your curation strategy.
Next, you'll need to identify who the key influencers are in your target area — they also curate and create content regularly. Follow bloggers, connect with analysts, and subscribe to trade publications to get a handle on what is happening in your industry. Then, look at some of the options below and choose one you can implement and use to target your prospect:
Package this as a service and sell it to B2B marketers; i.e., searching for and curating content specific to their audience
Create a product to teach them how to curate effectively and consistently
Host a webinar (solo or with a partner) showing how to do it with an upsell at the end
Build an app that targets B2B services specifically for this option (hey, they're becoming quite popular!)
Lots of people curate content daily, yet not everyone does it right. So begin to sell yourself as the go-to content curator for B2B marketers. Your next steps should include:
Sign up for two or three of these curation sites.
Personalize them and watch them over the next seven days or so. Choose a topic that fits right in with your target audience.
Write the article that goes along with your curated content. For example, write a post on the Top 10 B2B Websites That Use Content Curation Effectively.
Line up your target prospects.
Send it off to them or publish it on a site where they reside.
Continue the process.
Give it a Try
Content curation is a very smart time investment to make in the name of freelancing. Don't be intimidated, but be inspired to make this year a great year for you as a freelancer. If you follow the process of curating content and publishing it to the correct audience, you'll soon have marketers looking to you for content they need to engage their own prospects.
What do you think? Do you think you could add this as a skill to your B2B portfolio? Try it and let us know how this article helped you to reach out to B2B marketers.
This article, Guide to Successful Content Curation, was originally published by B2B Writing Success.

The Professional Writers' Alliance
At last, a professional organization that caters to the needs of direct-response industry writers. Find out how membership can change the course of your career. Learn More »

Published: April 9, 2015