Video:


May Great Books Club Selection:
The Big Leap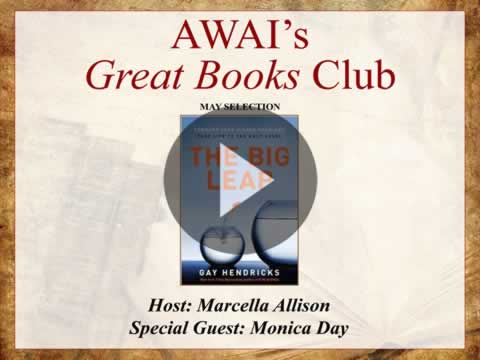 Audio Only (right-click to save) Slides Only
Is it possible that you could have self-imposed limits on your success that you're not even aware of? Author and personal growth expert Gay Hendricks says yes. And he maintains this is what prevents people from truly enjoying life to the fullest and excelling in their chosen career. In his book, The Big Leap, Gay helps you transcend your fear and overcome the roadblocks to your happiness.
Joining Marcella Allison is Monica Day, an A-level copywriter, entrepreneur, and coach. This book is one of her long-time favorites. As Monica says:
The Big Leap by Gay Hendricks literally changed my life. I initially found it when I was coaching copywriters, and I use it today as a fundamental book for all my coaching clients. In fact, it was responsible for my own transition from copywriting into coaching full time.

So many things became clear to me — the procrastination I struggled with, the ceiling I always felt like I bumped up against when it came to money and career. Reading it was like someone turning a light on in a dark room — and discovering a door right in front of me that I could just open and walk through.

I think the distinction Hendricks makes between living in your 'Zone of Excellence' or your 'Zone of Genius' is brilliant — and it explains why so many of us often leave successful careers and take big risks to try something new. And understanding your 'Upper Limit Problem' will finally take the brakes off your earning potential and let it run wild, as it should.

So, if you're brave enough to read it, and to see yourself clearly, in all your glory and all your stuckness, by all means, join us on the call.

I can't promise you'll be the same after you read this book. In fact, all I can promise, is that you won't be … and you'll thank me for it.
You should also check out all the past sessions. There have been some very informative and inspiring sessions over the past nine months, featuring some of the world's top books in the fields of copywriting, self-development, career-building, and more.

The Professional Writers' Alliance
At last, a professional organization that caters to the needs of direct-response industry writers. Find out how membership can change the course of your career. Learn More »

Published: April 17, 2015