The Secret to Making Clients Eager to Hire You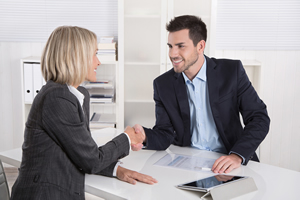 I want to tell you about something that makes potential clients eager to hire you …
In 2005 when I first started copywriting, I had some writing skills. In fact, I'd done some fundraising letters for a political campaign and they did okay.
But, just having writing skills didn't get me clients.
I was super hungry … starving, to be exact … for success. I had a large family to feed, with a six-figure debt load and no income. I needed a win in a big way.
But, just being hungry and driven didn't get me clients.
So what did? How did I build a strong six-figure copywriting business in less than 12 months?
The answer is simple …
So simple in fact, that I can transfer this secret to you … and help you launch your new writer's life in a single day.
This is exactly what I recently did with a group of copywriters in Phoenix. We gathered together so I could give them the secret to making clients eager and excited to hire them.
Here's what a few of them said about our day together …
"The entire program was fantastic. So informative, so educational. Joshua definitely knows his stuff. And his compassion and caring comes through in everything he does. Incredibly helpful!" ~ Cynthia Kincaid, Phoenix, AZ
"Found my niche! (Happy dance!!!) I learned more about organized, effective time management. And all the resources and materials you gave us were perfect. I loved it all … what a great day!" ~ Sheila Eastman, Phoenix, AZ
"Joshua is AWESOME!! He spells out exactly what to do in a clear, concise, easy-to-understand format. I came with writing skills and some ideas on my niche, but was uncertain about how to move forward. Joshua showed us a simple path forward. Thanks, Joshua!" ~ Gary Wright, Albuquerque, NM
These are just a few of the positive comments we received.
Let me give you one more …
Listen to what happened to one writer when he applied one secret that makes clients eager to hire you …
"Picked up a new client tonight, an $800 per month ongoing gig. And this with only the excellent training Joshua T. Boswell, gave us … After the 'world tour' stop in Chicago, it's 'Katie bar the door!'" ~ Steve Mauer, Chicago, IL, posted on Facebook
All four of these writers — and hundreds of others — have discovered the secret to making clients eager to hire you.
Let me tell you what it is, because I really want you to have it …
It can be summarized in a single word: Confidence.
Let me explain …
Confidence is that incredible, wonderful, powerful feeling of knowing exactly what your destination is … and knowing exactly how you're going to get there.
You've had that feeling before in your life, right?
Yes, when you have confidence, nothing gets in your way. You move forward, you get results, you have fun, and there is a sense of fulfillment like no other!
Confidence attracts clients to you. It makes them eager to hire you and pay you well for your services.
Right now, you might be like Gary Wright, who had some writing skills and some thoughts about his niche options … but didn't know exactly how to move forward.
Where are the clients?
How do I attract them?
How do I get them to hire me … and pay me?
Where do I start?
Those kinds of questions create uncertainty … and that is the opposite of confidence … and it repels clients.
Like I said, I can give you the confidence to move forward in a single day … just like I did for Gary, Sheila, Steve, Cynthia, and hundreds of others.
Over the next few weeks, I'm traveling to seven different major cities across the U.S. to put on a one-day workshop that will help you launch your writer's life in a single day.
You're invited to join me!
During our day together, I'll help you craft a custom-tailored, simple, clear plan for attracting and closing clients.
You'll know EXACTLY what to do, what steps to take, and how to take them.
Plus, I'll give you all the tools and resources you need to launch your writer's life … all the forms, contracts, scripts, emails … everything to build your business and land great clients.
On top of that, I'll give you a full year of support after the event so you can ask me questions when you hit uncertain times.
In short, after working with thousands of copywriters, I know exactly what you need in order to have clients be eager and excited to hire you … I know how to breathe confidence into your heart and mind … and I can do it all in a single day.
To get the full details, I encourage you to go here: https://www.awai.com/launchtour
There is still plenty of time to make travel plans and join me. You have seven cities to choose from … pick one today and gain the confidence you need today to enjoy the writer's life!

The Professional Writers' Alliance
At last, a professional organization that caters to the needs of direct-response industry writers. Find out how membership can change the course of your career. Learn More »

Published: April 9, 2015