You're Nowhere in Direct Marketing Without This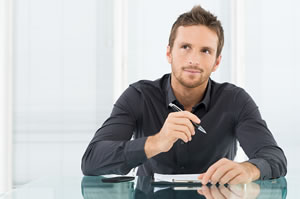 Copywriting is not about making a sale.
At least successful copywriting isn't.
Good copywriting succeeds on a number of different levels. But getting your prospect to give you money (or sign up, donate, support your cause, or act) is just the end result.
If that end result – as important as it is – is your target when you start writing, you'll fall short of success. Your writing will focus on the product and not on where it needs to be … your prospect.
Effective advertising promises to fulfill some need or desire in your prospect's life. Broadly stated, it must promise to solve a problem.
That promise is the core to writing a successful promotion.
Rewinding the clock 115 years …
Let's step back in advertising history 115 years to see how this works.
In those days, newspaper and magazine ads were little more than descriptions of the product … a list of its features. New products were announced and explained. There were no attempts to connect the product with the potential buyer's needs.
But that changed radically when former Canadian Mountie John E. Kennedy met with Albert Lasker in 1904. Lasker was a junior partner in Lord and Thomas, one of the top advertising agencies in the U.S.
During a long meeting that lasted into the early morning hours, Kennedy demonstrated how successful advertising was "salesmanship on paper." The basis of Kennedy's idea is that advertising must …
" … strike the responsive chord with the reader … [and] multiply the selling power of every reason-why given."
— John E. Kennedy
That responsive chord you must strike with your prospect is a promise … a promise to fulfill some hope, need, or want of his. It is the promise to ease his fears and make his dreams come true.
Within four months of testing promise-driven ads, Kennedy and Lasker were so successful his client increased its budget from $15,000 per year to $30,000 per month.
Fast-forward to today's advertising …
I have to clear one thing up here before I go on. I've been talking about advertising like all ads are the same.
That couldn't be further from the truth.
Most ads you see today aren't worth the billions of dollars spent on them. These are "branding ads." Ads whose sole purpose is to get the company name out there. Ads like any of the "Ten Funniest Super Bowl Ads of 2015" I watched on YouTube.
Literally 10 minutes later, I can remember only two products: Doritos and Mercedes-Benz.
The Doritos ad gave no reason I should buy them (other than giving me a mild chuckle). And the reason Mercedes-Benz said I should buy AMG-GT is that it is "no fairy tale."
Not very compelling reasons for buying either product.
No, the ads I'm talking about are the ones you're learning to write, direct-marketing ads. Ads whose sole purpose is to get response. Ads that promise to make the prospect's life better in some way.
Ads that promise to solve a problem bedeviling the prospect.
Your promise: A bridge between problem and solution …
Let's say the problem is joint pain. The solution is a new nutritional supplement.
Your promise – the bridge – could be: All-natural components increase joint mobility by 37% while reducing discomfort to zero. All without any of the side effects or worry of OTC or prescription drugs.
The problem could be the plight of homeless teenagers. The solution is a shelter for homeless youth.
Your promise – the bridge – could be: Your $100 donation will feed, clothe, and house a homeless teen for one month. This allows her to go to school, keeping her off the streets, and reducing the possibility of using drugs by 83%.
Of course, in giving your promise, you'd spend more time describing it. And you'd use your picture and proof sections to flesh it out.
Rules for success …
To succeed, promises must follow specific rules. Follow these rules and your promise – and your promotion – will be much stronger. And, that much closer to success.
Rule for Success #1: Promise something your prospect wants.
This seems obvious. But, all too often, copywriters look at a product and decide what to promise without thinking carefully about the prospect.
To work, your promise must touch your prospect's deepest hopes, dreams, fears, wants, and desires. You must also take into account his views of the world and himself. (Taken together, his core complex.)
Rule for Success #2: To find your biggest promise, find your product's USP.
Start your search for a strong promise with your product's USP (unique selling proposition). The USP is what makes your product different from all other similar ones. How does the USP impact your prospect's core complex? How does it make your prospect's life better?
This is your strongest promise. By starting with the USP and the core complex together, you're able to promise something your prospect hasn't seen before.
Rule for Success #3: The promise must be clear, strong, and focused.
Don't be subtle when formulating your promise. State it simply. Look at the promise in the AWAI headline: "Collect $125-$300 … an hour." There's no doubt what you're being promised. Clear. Strong. Focused.
Rule for Success #4: Go beyond obvious things in making promises.
When fleshing out your promise, don't always think "fear and greed." Your prospect is a complex person. So, look into subtler things to promise like friendship, respect, satisfaction, and the like.
Rule for Success #5: Be sure the promise relates directly to your product.
Again, an "obvious" aspect of a strong promise … that's often skipped over. If your product lowers blood sugar, you can promise freedom from fear of high blood sugar's devastating effects. But it doesn't make sense to promise women will fall all over your prospect since his controlled blood sugar makes him leaner and sexier looking.
This could happen. But it doesn't relate directly enough to your product to be able to promise it. Stray too far from your product's real benefits and you'll lose credibility. The prospect will feel – rightfully – that you're playing him. And, you'll lose the sale.
Let me finish today with what Mark Ford and John Forde said about the importance of a strong promise in their book Great Leads: The Six Easiest Ways to Start Any Sales Message:
"These days you won't find many ads of any type – at least not successful ones – that lack a promise of some kind, either stated outright or implied."

The Professional Writers' Alliance
At last, a professional organization that caters to the needs of direct-response industry writers. Find out how membership can change the course of your career. Learn More »

Published: April 20, 2015