Instant Gratification and Web-Writing Success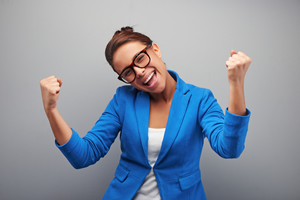 Getting people's attention is no easy task nowadays.
Internet users share 27 million pieces of content online each day. That's according to data gathered by AOL and Nielsen.
And the average attention span of a human being has dropped from 12 seconds to eight — one second less than the attention span of a goldfish, according to the National Center for Biotechnology Information.
Not the best situation for trying to stand out.
So, what's a web writer to do? How can you create the kind of content and sales copy that will actually draw in your target audience and keep them around for the long haul?
The secret is in giving them what they want right away. Making sure every piece you write provides whatever your audience is looking for quickly and effectively.
That's why today I'm showing you how to incorporate "instant gratification" in your web writing to achieve success for you and your clients. Grabbing and maintaining your audience's attention again and again, without fail.
Provide Big Value
The cornerstone of success with all writing is in the value it provides. The more impactful and actionable it is, the better.
Nowhere is this more vital than on the Web, where you're facing massive competition and the short attention spans I mentioned. If you don't stand out from the crowd, you risk losing readers altogether.
So, here are a few strategies you can implement to ensure your content and sales messaging hits the mark each and every time:
Message-to-Market Match — When writing for the Web, you have to appeal quickly to your audience. That means making sure you're conveying the message your prospects are expecting.

This requires doing your research. Finding out who they are and what keeps them up at night — their hopes and desires as well as fears and pains. Then making sure your messaging addresses those core emotions and beliefs up front.

For example, if your prospects are concerned about not getting enough Vitamin D in the winter, your article needs to show them how to get more Vitamin D. Don't go on about other topics, even other vitamins, hoping they'll care about them, too.

Essentially, if you keep "The Power of One" in mind and make sure the topic is exactly what your prospects care about right now, you'll create a winner each and every time.

Establish Credibility — A big issue with online content is the low barrier to entry. Because anyone can label themselves an expert, people are less inclined to believe what you're saying. That puts the onus on you to "prove" your knowledge with each fact you state.

The best way to do this is to cite everything. You can do that simply by including a link to your source in parentheses after any statement. Just that visual cue will comfort your reader and help them believe you.

Beyond that, don't be afraid to talk up your qualifications. Or link to other industry leaders' articles to further the points you're trying to make. Every little bit you share will boost your credibility.

Give Clear and Concise "Steps" — Information is the most useful when you can apply it right away. Whether it's a new recipe, exercise techniques, or how to be a better writer, it should be highly actionable.

So, to improve the value of your writing, give your reader clear steps to take after finishing the piece.

For example, if you're sharing a better way to plant and grow tomatoes, take them step-by-step through the process to get started. Even if your advice is less tangible, come up with steps or at least bullet points for actions to take.

It'll give your readers a reason to read through the piece and actually implement your advice. Bringing them back for more and getting them to know, like, and trust you.
Simplify, Simplify, Simplify
A major difference between web writing and other media is the reader's intent.
When a consumer buys a magazine, it's generally for a leisurely read. They're interested in the topic and want to check out a few articles. However, there's no pressing need for answers.
On the flip side, when a user is doing a Google search, they want to find out an answer to a pressing question they have right now. They aren't interested in casually browsing.
That means if they click through to your piece, they're expecting quality, targeted information … and they're expecting it fast. So you need to make your writing as concise and readable as possible. There are a few strategies you can use to ensure it fits the bill each time:
Get to the Point — It can be tempting to wax poetic on topics we're passionate about, but your readers need answers fast. Don't risk losing them because you have too much to say!

Instead, only say as much as you need to thoroughly explain the topic and then wrap it up. Your writing will be far better, and your readers will be more likely to go through the entire text.

Make Your Piece "Scannable" — In addition to being as concise as possible, you want to break up your piece so it's easy to digest. Seventy-nine percent of web users scan rather than read — according to more research from Nielson — so you want your content to cater to that.

Use bold and italics to highlight key points, limit paragraphs to three or four sentences max, and use subheads to break up big ideas. If you're listing tips and strategies, use bullet points to make them quicker to scan. Just like in this article.

What this will do is make your content and sales messaging appealing to every kind of reader. And effectively get the point across no matter how committed they are.

Be Conversational — Part of simplifying is making your content as easy to digest as possible. And talking in a conversational tone is the simplest way to do that.

To start, allow yourself to write freely without self-editing. Then, when you revise your piece, read it aloud. If any of it feels unnatural, edit it to reflect what you spoke.
Ultimately, you'll end up with a more impactful and relatable piece. And you'll connect with your readers on a more personal level.
Achieve the Success You Deserve
If you want to achieve the success you dream of, start thinking about how you can give your readers what they want. Providing "instant gratification" will net you a big increase in your response.
So, go through all of these steps and try implementing them on your next project. Or perhaps go back to pieces you've published and see how you can improve them.
You'll boost your engagement overall. More people will read your content and sales messaging, they'll be more inclined to actually comment and share it, and you'll improve your visibility. And that will put you on the fast track to living the writer's life.
This article, Instant Gratification and Web-Writing Success, was originally published by Wealthy Web Writer.

The Professional Writers' Alliance
At last, a professional organization that caters to the needs of direct-response industry writers. Find out how membership can change the course of your career. Learn More »

Published: May 6, 2015