Why Telling a Good Story Makes You a More Trustworthy and Experienced Writer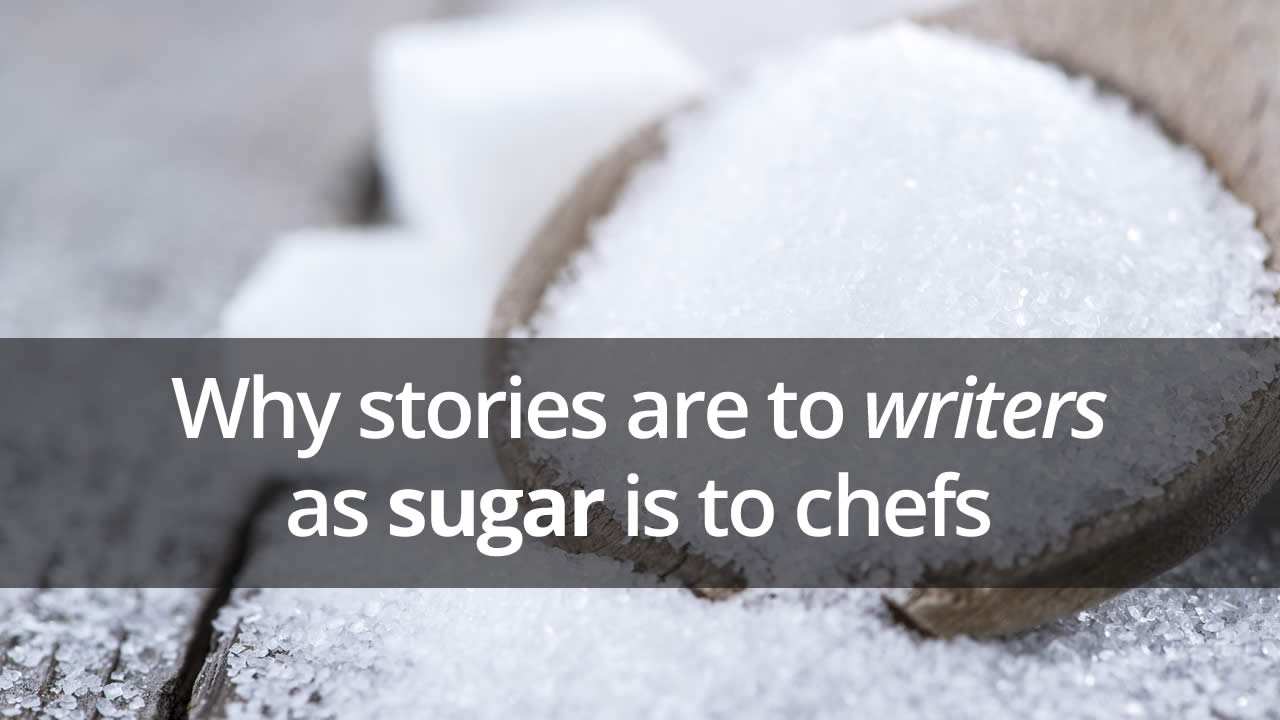 Yesterday, we kicked off the week by talking about the power of stories.
It's a topic worth delving into, especially if you want to make your living writing.
Stories are to writers what sugar is to chefs. It's that little something that stimulates pleasure in the brain. It makes you yearn for more. It can knock you into a euphoric frame of mind.
Stories are also a powerful tool for beginning writers, because they can make your reader perceive you as much more experienced than you really are. Or, you might come off as being more relatable to your reader, which is also a powerful form of connection.
For example, I once read about a young blogger who worried he'd never gain a readership due to his inexperience. Instead of trying to be something he wasn't, he sought out stories from the top names in his industry. He asked them for quotes and looked for tantalizing passages they'd written. Then he added those things to his blog.
By capturing multiple stories that connected his readers to the things he was trying to portray — like experience and value — he appeared to have those same traits himself, and his readership grew.
A lot of his success came about, because he knew how to help his readers get what they wanted. It's the same case for you, if you're writing something intended to help a prospect solve a problem or overcome a challenge.
In other words, before crafting any story, ask yourself who you're writing to and what your goal is when it comes to engaging him or her.
Let's say you're writing a website to sell yard maintenance services. You do your research and discover your key prospects are usually forty-somethings in a two-income household with two or more kids who live in the suburbs.
Their burning desire is to enjoy family-centered weekends in their sprawling backyards, but they don't have the time to mow the lawns and trim the hedges every week.
For your website project, you could pop out a bunch of bullets about professional services and a proven track record and high-grade equipment.
Or, you could tell a story about Bob the Businessman who unwinds each week in his shade-dappled yard, where the scent of honeysuckle lingers by the sun-warmed patio chairs, and the freshly swept flagstone feels cool against his bare feet. You could talk about how he and his wife watch their kids splash and play in the clear pool water as the smell of barbecued ribs wafts across the neatly trimmed lawn.
(I don't know about you, but just writing that makes me want to pay a visit to Bob the Businessman!)
The point is, telling a story is more likely to help your prospect connect the dots from his or her problem to your solution.
And, if you can add sensory elements by describing the way things smell and taste and feel, your story will be even more effective at lighting up your reader's sensory cortex — thereby forming a memorable connection.
Try this simple practice exercise to sharpen your sensory-based writing. Pick something you love, then explain it on every level possible. Describe the way it looks, feels, smells, and tastes. Describe the sounds associated with it.
For example, I chose rhubarb pie. It's something I associate with lazy summer afternoons where birdsong rings clear through the air and the scent of sunblock and fresh garden dirt fill my backyard.
What about you? Share your practice exercise here.
Maya Angelou said it best: "People will forget what you said, people will forget what you did, but people will never forget how you made them feel."
Stories will always be one of our most powerful tools for the creation of feelings. Tomorrow, I'll be back to explain how to frame your personal stories so they resonate with and engage your readers. Remember, engagement prompts action, whether that means more buyers for your product, more subscribers for your service, or more donations for your cause.

The Professional Writers' Alliance
At last, a professional organization that caters to the needs of direct-response industry writers. Find out how membership can change the course of your career. Learn More »

Published: June 2, 2015