The "Dream" Niche with No Hard Selling, Short Projects, and Great Pay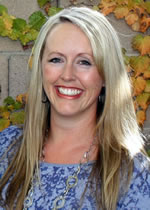 Mindy McHorse
In the years I've had the privilege of working with Barefoot Writer magazine, I've interviewed dozens of experts in the field of writing. From copywriters to novelists, published authors to heavyweight icons in the world of direct mail, they've shared radically inspiring stories on how to succeed at the writer's life.
When I first started doing these interviews, it was very much a rattled-nerves, sweaty-palms experience. Talking to industry greats like direct-mail legend Richard Armstrong, or New York Times best-selling author Jennifer Armentrout, or NaNoWriMo founder Chris Baty can get you all hot and bothered if you're a writer with big dreams.
Yet, each time I went into an interview, I was surprised to discover how very down-to-earth and approachable everyone was. They may all be rock stars of the writing world, but distant and lofty they are not.
In fact, every single writer I've interviewed for Barefoot Writer has graciously shared starting tips and encouraged new writers to jump in to the welcoming waters. One subset of experts—the B2B authorities—has especially been accommodating to aspiring writers.
So this week, I want to introduce you to five of the most interesting, talented, prosperous B2B writers I've interacted with. Not only have they shared proven tips for getting a successful writing career up-and-running, they've also unabashedly revealed their challenges. Get to know them and you'll realize every successful big-name expert has more in common with you than you think.
To kick things off, I'd like to introduce Dianna Huff. She's a cool and calm forward thinker who's been in the trenches as a marketer for more than 25 years. She's also a leading expert in helping B2B companies transform ho-hum websites into tools that engage visitors and turn them into qualified leads.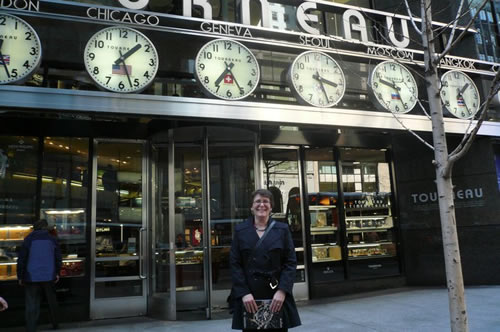 In front of the flagship Tourneau store in Manhattan – Dianna Huff met the VP of Marketing for Tourneau on Twitter!
Taking things apart and putting them back together so they're better than ever is a passion of hers. In fact, Dianna once "dropped" the engine and replaced all the heads on her own 1969 VW Beetle.
She was slated for life as a "marcom" expert (marketing and communications) early on. All the personality tests she took from her career counselor in college actually told her so. When she read the job description, "It was like the sun came out," she says. Because every job she'd had prior found her asking to take on any writing project that was needed.
These days, Dianna focuses on how to develop websites that generate leads. Her business is thriving, and she's high on the totem pole in terms of having what it takes to make a B2B website tick.
But I'll never forget one of the tips she shared for anyone looking to get their writing career off the ground. Quite simply, it was to give yourself a promotion.
In other words, if you're ready to go from thinking about life as a paid writer to actually being one, make it official and promote yourself upward. Because a lot of success in the writing world depends on how you see yourself.
Says Dianna, "I promoted myself from Staff Copywriter to Marketing Director, and now I finally feel like I'm CEO of my company, DH Communications."
So, if you've been on the fence about making a living as a writer, promote yourself from "Fence Sitter" to "Copywriter-in-training." Or, from "Program-Studier" to "Writer-for-Hire."
And, if you want to get into writing online content for B2B websites, here's how Dianna recommends you start:
Learn the terms. Get familiar with industry lingo like SEO (search engine optimization), lead generation, analytics, mobile-optimized, and site analysis, just to name a few. Read blogs like Dianna's and you'll notice the recurring terms.
Find examples of what you want to write. Find the website and sales copy of a company you'd like to write for and study it. Note the voice and writing style used.
Write a new headline and new copy for one of the pages on that website you found. You can use this as a practice exercise to strengthen your writing skills. Edit and revise it. Then consider approaching the company and pitching the idea. You'll get good practice writing, and you may even land a project.
It's worth the effort. As Dianna puts it, "When you're able to turn someone's site around, and they call you to say they're getting leads, it's phenomenal. It's fun. You get to be the hero."
And, if you want to learn more about writing web copy, . (Is this something you're interested in? I'd love to know – please comment here.)
And if you'd like to read more about the incomparable Dianna Huff, .
Tomorrow, I'll be back to introduce you to Michael Katz and his easy-as-pie client-generating technique.

The Professional Writers' Alliance
At last, a professional organization that caters to the needs of direct-response industry writers. Find out how membership can change the course of your career. Learn More »

Published: June 29, 2015