The Writing Opportunity That Gives You a Reliable, Consistent Income

This week, we're doing a meet-and-greet with some of the top names in the Business-to-Business writing industry, as well as looking into the top money-making B2B opportunities.
So today, I'd like you to meet Michael Katz. He's a former award-winning humor columnist, author, and father of three. He's also done a great service to the freelance writing world by overturning one of the biggest fears new writers face when starting out.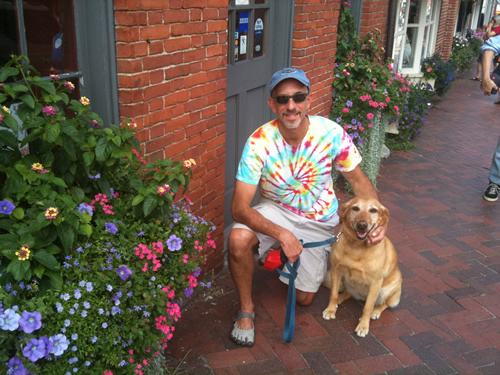 Michael Katz and his dog, Abbie.
What fear is that? It's the fear of selling—specifically, the fear the selling yourself as a professional, along with your services.
It happened quite simply. Michael wanted to go out on his own in business, but wasn't sure what direction that would take him. While exploring his options, he came up with a way to share useful information and stay in touch with past work colleagues. It was the seed of an email newsletter, though back in 2000 nobody was calling it that.
As people asked to be added to his list, he realized how powerful email newsletters could be as a non-salesy way to communicate. So he started using them to help others. Not only did he quickly prove most businesses could benefit from e-newsletters, it also became an enjoyable way to write for a living—without having to get into hardcore selling.
The projects are extremely simple. They're basically short, concise "articles in email form" sent from your client to their target audience, with the goal of keeping new prospects and existing customers engaged.
As Michael puts it, "One of the best parts of newsletter-writing is that you never have to pretend you're something else." He points out that "business professional" doesn't fly over email. But being friendly and easy-going (which he is) are valuable traits in the world of e-newsletter communication.
It's an opportunity worth exploring if you have a fear of selling. Although, according to Michael, the fear of selling is outdated. "Before the Internet, you either had to spend money or pick up the phone or knock on people's doors to reach out to people." But these days, it's all about who's a better communicator—not who has more money.
As a writer, that puts you in an excellent position. Because it all comes down to one thing: Your message, not the size of your marketing budget.
If you want to ramp up your freelance writing career, Michael's number one tip is to be authentic. "There's no 'correct personality' for newsletter writing," he says. "Don't try to be funny if you're not. Don't try to sound like an expert in something you're not. … Don't try to fit a mold. Don't work from your house because others do it. … Don't say 'we' on your website when you work solo. Because as soon as someone hires you, they're going to know you're not bigger, and they'll be disappointed."
An additional perk to the world of email newsletters is the regularity with which clients will hire and then re-hire you. Most e-newsletters come out at least once a month. Others come out once a week. Some are even bi-weekly.
If you decide to try your hand at writing e-newsletters and impress a client with your work, it's not unusual—quite typical, in fact—for that client to have you take over all subsequent email newsletters.
Here are three ways to get rolling in the world of writing e-newsletters:
Put together some samples. Pick out a product or company you like and write a sample series of e-newsletters for it. You don't even have to pitch it to that company—just writing the sample to show to other prospective clients is enough.
Approach a company you'd like to write for and pitch them directly. Talk to them about the effectiveness of e-newsletters when it comes to growing relationships and nurturing leads (point out that nurtured leads produce a 20% average sales increase). Explain how staying in contact can make a huge difference in their bottom line, especially because it reduces the expenses of other marketing efforts and provides a single channel for their message.
Use your first project (or spec) as a sample to show other potential clients. Before you know it, you'll have an entire email-newsletter writing business set up, complete with steady income and—best of all—access to the freedom that comes when you pursue the writer's life.
If it sounds like something you want to do, you could even test the waters by sending out your own email newsletter. (What would you write about if you could send any kind of e-newsletter? Tell me here.)
To see the complete interview with Michael Katz, . And to learn more about making a living writing email newsletters, .

The Professional Writers' Alliance
At last, a professional organization that caters to the needs of direct-response industry writers. Find out how membership can change the course of your career. Learn More »

Published: June 30, 2015