A Quick Route to Paid Writing Projects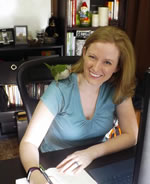 Christina Gillick
Hi, I'm Christina Gillick – a full-time freelance writer.
But, I couldn't always claim that title.
Not long ago, I was frozen in place. While I had studied copywriting and thought I understood it … well, I still felt I wasn't ready to make the leap.
How could I contact potential clients with confidence when I couldn't even say the words, "I am a writer"?
What I needed was real practice with real clients … but on a small, trial-type scale. I wanted to write short pieces (under 1,000 words) so I could "get my feet wet" while still working a full-time job.
But … beyond that … I wanted to get paid to practice my writing! At the time, I didn't know if that was even possible, but I searched anyway.
After some research, I found that writing articles was a perfect fit! (Plus, there was a huge and growing industry desperate for these projects.)
This week, I'll show you how to break into article writing and even get paid along the way. But, first, let's make sure we're on the same page …
Article writing – sometimes referred to as guest blogging or guest posting – is simply writing an article (or blog post) for a website other than your own.
This type of writing is sometimes referred to as "content writing."
Content writing is similar to promotional copywriting and follows many of the same rules (such as writing like you speak and having a conversation with only one reader).
But, unlike promotional copy, content is typically shorter, more entertaining, and less "salesy."
Plus, the demand for content writing – and content writers – continues to grow, because so many websites need content – like articles, blog posts, and e-newsletters – to educate and entertain their customers.
That's where the content writer comes in. Your content – although simple, easy-to-read, and short (often under 1,000 words) – keeps potential buyers engaged with your client and increases their potential to buy.
Plus, you'll gain samples, improve your writing, reach more potential clients, and even get paid to do so. In just a few weeks – if you're serious and consistent – you could be earning $200 (or more) per blog post and have more requests than you can handle.
It might sound simple, but writing articles – using the plan I'll give you this week – is how I started and grew my writing business from nothing to a full-time income.
The first step – and today's action item – is to choose a BROAD topic for an article. You won't be stuck with this choice for life, so keep it simple. Think about the things you enjoy and have some knowledge of. Examples might be making healthy smoothies, meditation, raising backyard chickens, or saving with coupons. Any topic will do, just be sure to keep it broad.
If you have any questions, go here to post in the comments.
Tomorrow, I'll show you how to find your first paid project.

The Professional Writers' Alliance
At last, a professional organization that caters to the needs of direct-response industry writers. Find out how membership can change the course of your career. Learn More »

Published: July 20, 2015