Living Proof: AWAI Member Steve Coombes on His Writer's Life

Is the writer's life real? It's a question we hear all the time at AWAI.
But what people actually want to know is: Is the writer's life possible for me?
Well, I've been watching it happen for 18 years now. So, the answer is a resounding "Yes!"
This week, I'd like to introduce you to five AWAI members who, not that long ago, asked that same question.
You'll discover exactly what they did on their way to enjoying all the writer's life has to offer, and how you can follow in their footsteps.
First up … please meet Steve Coombes …
Just eight years ago, Steve's typical day started with a rush out the door – he had a long commute ahead of him. Combined with long hours at the office and a drag of a drive home, he wasn't getting to see much of his family.
These days, things are different. Steve works from home, surrounded by his seven children and his wife. There's no more commute … and no more emotional conflict between needing to be the breadwinner and wanting to spend time with his family.
But, as you'll see, there were a few barriers Steve had to face down before he made the leap to being a writer. He had to convince his wife … and himself … that copywriting was the best path forward.
See how he did it – and what happened next – right here: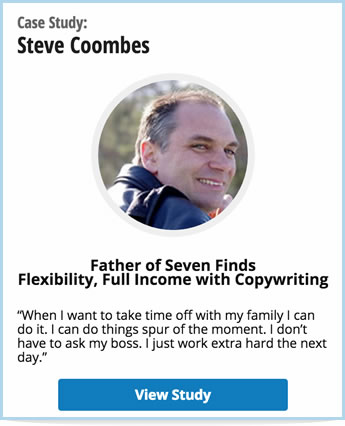 As you can see in Steve's story, giving copywriting a chance wasn't a decision he made lightly. His existing job provided a certain amount of security. But, just as there were risks to trying copywriting, there were also costs to staying in the life he had before.
Think of your own situation. What are the costs – real or emotional – to continuing in your current path? How would being able to work from home, as Steve does, change things for you?
Please feel free to share your situation – and the potential changes copywriting would make – in the comments.
Then, stay tuned for tomorrow. I'll share how copywriting became a "Permanent Plan B" for one member who'd originally planned to lead a very different kind of writer's life …

The Professional Writers' Alliance
At last, a professional organization that caters to the needs of direct-response industry writers. Find out how membership can change the course of your career. Learn More »

Published: July 6, 2015