Living Proof: Guillermo Rubio Reveals How Being Scared to Be a Writer Proved It Was the Perfect Choice for Him

Katie Yeakle here, with one more person I'd like you to meet.
All this week, you've seen proof that the writer's life can help you create the life of your dreams.
Maybe, like Steve Coombes, you have a family at home who depends on you. Or, maybe you're like Pat McCord or Peter Fogel, with creative dreams that need the financial boost copywriting so easily offers. Or, perhaps you're like Krista Jones, completely fed up with how your work life turned out, and you're looking for a "reboot."
Or, maybe you're like Guillermo Rubio …
"G" (as he's known to many of us) knew he wanted to live the writer's life. He had owned the Accelerated Program for Six-Figure Copywriting for five years … had been through it, and completed every exercise. But, he just wasn't able to take the next step of actually getting started writing for clients.
Spoiler alert: Today, G has a flourishing copywriting business. He earns a solid six-figure income while enjoying the freedom of being his own boss. But to get here, he had to learn more than copywriting skills; he had to overcome a major obstacle: fear.
Here's how he did it …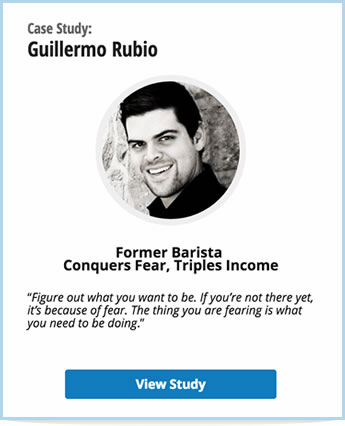 G was able to use his fear as a guidepost for where he needed to go next in his career. The same things that scared him were the exact steps he needed to take to make his next breakthrough.
Take a moment and apply G's lesson to your own life. What next step in copywriting scares you? How might that fear be a signal to you about what you need to do next?
Share your fear in the comments section below. And, if there's anything I can do … or any of us at AWAI can do … to help you move forward with that next step, share that, too. That's what AWAI is all about!
I hope you've enjoyed meeting Steve, Pat, Peter, Krista and Guillermo this week. I hope they've inspired you and given you some ideas you'll start using right away for living the writer's life of your dreams.

The Professional Writers' Alliance
At last, a professional organization that caters to the needs of direct-response industry writers. Find out how membership can change the course of your career. Learn More »

Published: July 10, 2015