The Book-Writing Opportunity That Gives You Long-Term Revenue Streams

We're going to finish our week of getting to know B2B experts with a fellow who epitomizes all that's good and possible when it comes to living the writer's life.
More than anyone I've ever met in the writing business, Bob Bly proves that if you write every day and apply what you learn to all possible avenues, you can have an extremely successful and lucrative career.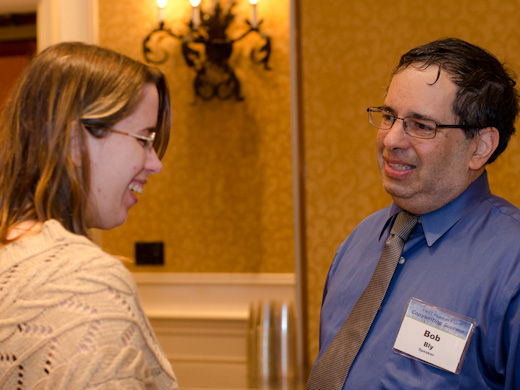 Bob Bly speaking with an AWAI Bootcamp attendee in Delray Beach, Florida.
He's humble, he's frank, and he tells it like it is. He's never claimed to be the best writer in the world, yet he's in huge demand every year and consistently earns a high six-figure income.
One thing you may not know about Bob is that he's an introvert. He hates the idea of filling his days with meetings and social soirees. So it only makes sense that he came up with a way to get clients to come to him, rather than having to put himself out there and knock on doors.
He does it in a variety of ways, but the one I'd like to talk about today is selling e-books. He's written many himself, sometimes co-writing with another writer. Then he sells them to writers and marketers alike and generates a cushy second income, on top of his copywriting income.
Bob has shared terrific advice over the years for succeeding as a freelance writer. Here are three of his best tips:
Find a writing specialty or niche. The narrower the niche, the more in demand you'll be as a writer and the more money you'll earn. For example, there are plenty of gardening writers, but only a few that specialize in orchids.
Read as much as you can. You never know when you'll uncover more grist for the mill. Create an organized filing system so you can clip, save, and retrieve these information nuggets when you need them.
Give every job, even the low- or no-paying ones, your best effort. "We never write as well as we want to," said advertising copywriter Lou Redmond. "We only write as well as we can."
If you want to direct your writing career toward e-books, you're in for a treat. You can write about anything you're passionate about, e-books have a high-perceived value, and you can take home 100% of the royalties. Here's how to get started writing e-books:
Make a list of things you would most love to write about. Then narrow it down to the top five. You can always write an e-book on one subject and then switch topics down the road. Bob Bly has e-books on everything from writing to raising children to car tips.
Now make a list of all the sub-topics related to your core topic. You'll use these to get the word out about your book when you start writing it. For example, say you decide to write an e-book about trail running. Sub-topics could be finding the right shoes or how to eat the morning before you run. You'll use these shorter pieces to connect with your audience so they'll get intrigued enough to check out your book.
Plan out your writing platform. Visit the Barefoot Writer "MAP Your Book" blog to start getting an idea on how to do that, but it will involve setting up your online profile, securing a website, and writing content—all smart steps to take before you even start writing your e-book.
You can . And please ask me any questions you have—about anything!—by clicking here.
If you'd like to know more about writing ebooks as a regular money-making opportunity, check out this month's issue of Barefoot Writer magazine. The issue goes live today and includes an interview with yet another B2B writing great, Casey Demchak. Click here if you're already a subscriber, or click here if you'd like to learn more.

The Professional Writers' Alliance
At last, a professional organization that caters to the needs of direct-response industry writers. Find out how membership can change the course of your career. Learn More »

Published: July 3, 2015