Living Proof: Peter Fogel Reveals How Copywriting and Acting Can Combine for a Profitable Career

Katie Yeakle here, back to share with you how a big dream can help you move forward toward the writer's life you want.
For Steve Coombes, what moved him forward was the dream of being able to spend more time with his family. For Pat McCord, who you read about yesterday, it was being able to write and publish fiction.
Today, I'd like to introduce you to Peter Fogel …
Peter's big dream has always been a career in comedy.
Starting in the late 1970s as a stand-up comic, Peter's spent most of his life on the stage. During the comedy boom of the 1980s and 1990s, his career flourished … but then things tapered off.
Was his comedy career over? Others might have said so. But not Peter …
Facing 40, he just knew he needed more options – and more income. And, he didn't want to leave the comedy world behind. So instead, he found a way – copywriting – that he could make the income he needed and live his dream life on stage on his own terms.
Here's how it's working for him now: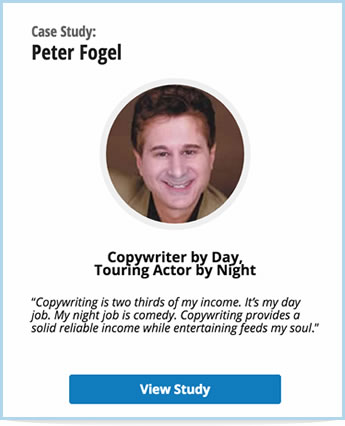 By combining his skills from each of his creative strengths, Peter's been able to build the life he wanted. And you can, too.
Consider your personal strengths. Are you a creative performer, like Peter? A gifted accountant? A pro-level knitter, gardener, or chef? What do you do well that makes you happy?
Now, think about how your existing talents could be combined with copywriting. How would adding persuasive writing skills open more doors for you?
Share your thoughts in the comments. I'd love to hear what talents you'll combine with copywriting in the future!
Then, stay tuned for tomorrow's issue. You'll see how combining a love for the outdoors with a love for persuasive writing has added up to a better life for one former corporate warrior.

The Professional Writers' Alliance
At last, a professional organization that caters to the needs of direct-response industry writers. Find out how membership can change the course of your career. Learn More »

Published: July 8, 2015