Five Great Examples of Niche Marketing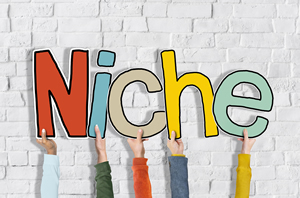 Choosing a niche can have a dramatic impact on your freelance business. It'll help you get up and running faster, make your marketing simpler and more efficient, and most importantly, make your life and work a lot more enjoyable.
Yet despite all the many benefits, a lot of writers struggle with choosing their very own niche … even after going through all the usual steps of reviewing their experience and interests.
Renowned marketer Jay Abraham often recommends looking to markets completely different from your own for ideas you can use for your own business.
With that suggestion in mind, here are five great examples of niche marketing from a wide range of industries that just might be the inspiration you need to help define your own web-writing niche.
1) Cafe, Meet Laundromat: The BrainWash, San Francisco, CA
If you live in a city, you understand the struggle of having to lug all of your laundry down multiple flights of stairs, and down the street, to spend a few hours at the laundromat. It's all part of life without a washer and dryer.
And once you've started your wash, you don't have much to do. Of course, we writers can bring our work with us. However, most people only have the option to read, play on their phones, or go back and forth to their apartment.
Well, a young couple in San Francisco saw an opportunity here. Everyone likes to go to chill at a cafe with friends. And most have to go to a laundromat. So, why not combine those into one experience?
And thus, The BrainWash was born. A place where you can do your laundry, while enjoying a hot coffee, sandwich, or a beer.
Now, there is no shortage of laundromats or bars in any city. Practically every corner has one of each, and almost any wise investor would tell you not to bother starting your own.
Yet, this business combined both of these saturated markets into one and created something completely unique. And they've been going strong since the late 80's.
Lesson: Even if a market is saturated, there may be ways for you to get in and build a lucrative business. You can combine two separate ideas to create a whole new market for yourself. All you have to do is keep an ear out for a missed opportunity.
2) Just a Blowout, Please: Drybar, Brentwood, CA
Have you ever had an important meeting, an interview, or a special event you wanted to look great for? Or perhaps you just need to "freshen up" after a long day?
For women, a very popular solution is getting a blowout. However, that usually means going to an expensive salon and paying for a full cut-and-color job. Or worse, a discount chain where you aren't sure what you're going to get.
Well, the founder of Drybar saw this problem, and came up with a solution. Despite the beauty industry being flooded, she created a place where you could go and just get a blowout for a reasonable price.
And, wouldn't you know, the first day they opened in 2010, they were booked solid.
Now, they've gone from a small operation in California to having over 40 locations in 8 states. And they're still going strong.
Lesson: Yet again, an inventive entrepreneur created a gold mine in an over-saturated market. This time, by focusing on one specific service everyone is looking for.
As a writer, you can specialize in one type of product — landing pages, white pages, autoresponders. Find a market hungry for your service, and you can create a lucrative business for yourself.
3) A Dirty Job that Pays Off: Gumbusters, NY & NJ
Though it's not glamorous, the cleaning business is a booming industry. Making it difficult to set yourself apart.
However, just like with anything else, where there is a specific problem, there is an opportunity. And in NYC and NJ, that problem is gum.
Every public space in the city is covered with the stuff — sidewalks, subways, parks, museums, you name it. Those dark black spots that look like tar? They're really discarded gum. (Gross, I know!)
While power-washing businesses were already tackling the problem, they weren't particularly efficient. They used up about 8,000 gallons of water or more for any given job. And they took up precious space in front of storefronts, hurting the local businesses.
So, an enterprising entrepreneur sought a better solution. And thus, Gumbusters was born.
He developed a system that only uses 4-8 gallons of water and no chemicals to clean up the gum. It's only operated by one person, so pedestrians can keep using the spaces while they're being cleaned. And it can remove gum from any surface — carpets, pavement, and furniture.
Their solution was so popular, it even ended up on Dirty Jobs. Many elite establishments use their services — including the Smithsonian and the Long Island Railroad. And they continue to enjoy success to this day.
Lesson: Offering a better solution than what's out there can help you stand out. If you develop a high-converting, simple formula for Facebook Ads, for example, you could focus on that.
Get data on how it outperforms your competition and create your own niche. You could even end up working with huge companies that pay top dollar!
4) Self-Promotion for 'Innies': The Introvert Entrepreneur, Tacoma, WA (And Online)
Promoting yourself as an entrepreneur is hard. Many books, courses, and content out there focus on "the big sell." They encourage you to be a "go-getter" and "network" as much as possible. And our society celebrates successful people with these skills.
Unfortunately, many of these "success" traits are defined through the filter of an extrovert. If you don't fall into that category, you may feel like success isn't for you.
Beth Bouey saw a problem here — introverts like herself were not getting the advice they needed to succeed. So, she designed an entire business encouraging introverts to embrace who they are and work with their traits to build a sustainable business. And that's how the Introvert Entrepreneur was born.
As she states in her About page, "Our goal is to create empowered, productive environments where introverts can flourish. The key to that is understanding and appreciating what it means to be an 'innie' in an 'outtie' world."
The Introvert Entrepreneur has become a widely successful business helping people who truly need her guidance. Proving you can find a niche in any market, if you take the time to listen.
Lesson: Personality traits are very much an acceptable niche, as well. As a writer, you can not only market yourself based on your definitive traits, you can market to others' definitive traits.
What makes you stand out as a person, as well as a writer? What kind of people do you like to work with? By answering these questions, you may find yourself a very lucrative opportunity.
5) Write What You Love … : Jon Morrow's Make a Living Writing Blog (Online)
Last but not least, here is a writer who had a lot working against him. Yet, he found a way to serve an audience, build a very lucrative business, and live the life of his dreams.
Jon Morrow suffers from a type of muscular dystrophy called SMA, and it's taken away the ability for him to move everything except for his face. In fact, he uses Dragon Dictation to do all of his writing.
Beyond that obstacle, he was dealing with high healthcare costs and was worried about not being able to support himself. He didn't want to end up in a nursing home.
So, he committed to building a blog to help people with their personal finances. He worked for three months straight, from morning until night, built up a solid following, and then sold it to take a job offer at Copyblogger.
Through his experiences, he noticed a common struggle among other writers — they wanted to live a free life writing about what they love. But they had no idea how to get their blog off of the ground.
So he began coaching people. Ultimately, he developed a blog and a course dedicated to showing others how to make a living writing.
Now, he lives in West Palm Beach, earns plenty to pay off his bills and live comfortably, all while helping others achieve their dreams. For him, it's the perfect life, and all thanks to committing to a market that desperately needed his guidance.
Lesson: No matter who you are or where you are from, you have the power to create a business you love. You just have to ask yourself — what is my expertise? How can I help others? Who would gain the most from my knowledge?
Once you've figured that out, you're well on your way to building a successful business. All while serving a niche you care about. What better way is there to live the writer's life?
This article, Five Great Examples of Niche Marketing, was originally published by Wealthy Web Writer.

The Professional Writers' Alliance
At last, a professional organization that caters to the needs of direct-response industry writers. Find out how membership can change the course of your career. Learn More »

Published: July 22, 2015