How to Become a "Rainmaker" for Your Writing Clients

We're spending the week getting to know different experts in the B2B writing world. Today's B2B person-of-interest is definitely worth getting to know, especially if you've got your eye on a profitable writing career.
So with that, I'd like you to meet Steve Slaunwhite.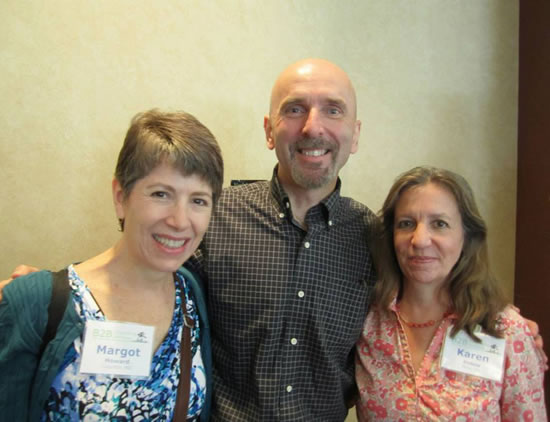 Steve and AWAI members Margot Howard and Karen Dobos at the AWAI 2013 B2B Copywriting Intensive in Chicago, Illinois.
As a top name in the B2B writing industry, Steve is everything you'd want in a writer and a teacher—patient and consistent, as well as highly successful.
Part of the reason he's so productive is that he's found balance in his life. That includes a lot of time spent in outdoor sports, whether it's jogging, skiing, cycling, whatever. "Anything that gets me outside and moving forward," says Steve.
Forward movement is a good way to describe the progression of his writing career. Early on, Steve was fueled by the burning desire to be self-employed. After rewriting some sales material for his boss years ago, he became aware of the opportunities in getting paid to write for a living.
Since then, Steve has written and consulted for over a hundred Fortune 500 companies, including Forbes, Sprint, and Hewlett-Packard. His four published books on Amazon bring consistent five-star reviews. He's won prestigious awards, frequently appears as a speaker, and co-founded International Freelancer's Day.
But at the end of the day, Steve says he's "Just another writer doing what he loves." (And doing it extremely well!)
If you're ready to break free from your current job or circumstance, here's Steve's advice:
When you're just starting out, leverage what you know. Steve went into the B2B arena because he'd spent 10 years in B2B sales. So if your background is fitness, write for that market as a jumping off point. If it's teaching, write about that.
Pick a niche or target market and keep it simple for yourself. That doesn't mean you're married to that niche forever, it just means you're focusing your efforts on a particular industry or niche so you can start getting clients quicker. Things essentially happen faster.
If you decide to focus on lead-generation, like Steve, know that your number one goal is to get your prospect to say "yes." Here's how you can practice doing that:
Start with the prospect. Don't start with the product or service you'll write about. Instead, learn about your prospect and figure out what she really wants. Drill down to the person who makes the buying decision. For example, if you're selling security systems to small businesses, you won't write to a small business. You'll write to the small business owner, a woman in her 50s who wants to protect her employees and herself from outside harm while maintaining a friendly store atmosphere.
Write her an email. Just a friendly email, not mentioning anything you're selling. Start the conversation. Get yourself used to communicating on a human level. Address her business needs and her personal needs.
Do this a couple different times, for different products and different prospects. When you feel comfortable, write a similar email that sells your writing services. Send it and use your practice emails (after you've polished them) to potential clients. (I've tried this and it works—do you plan to do it? Tell me here.)
Learn more about lead-generation opportunities by , and .
Tomorrow I'm going to introduce one of my favorite writing opportunities. (Hint: It includes storytelling!).

The Professional Writers' Alliance
At last, a professional organization that caters to the needs of direct-response industry writers. Find out how membership can change the course of your career. Learn More »

Published: July 1, 2015