How to Use Workshops to Land Clients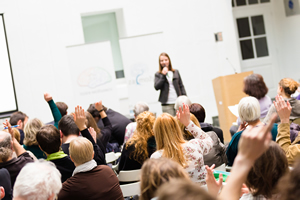 Experienced marketers often use lead magnets to attract new prospects and land clients. They offer free special reports, resource guides, checklists, templates, audio CDs, books, and any other number of things as the first step in the lead-generation process of client acquisition.
They do it because it works.
Just as wineries offer prospective buyers a chance to try their wines in a tasting room prior to committing to a purchase, a lead magnet gives your prospect a taste of your expertise. A good lead magnet builds your credibility while moving your prospect closer to hiring you.
I, too, have used all the items mentioned above as lead magnets to attract prospects. I've had varying degrees of success with different lead magnets. But the one strategy I've had consistent success with — and one that many people don't even think of as a lead magnet — is workshops.
To clarify, I don't mean attending workshops as networking events to meet new people.
Instead, this strategy involves you giving a presentation that gives your attendees useful content. (So, yes, it does entail you standing in front of the room, sometimes even on a stage or in front of a camera.) You might be the workshop host and sole presenter, or you might be the featured speaker at an association luncheon.
Now, the keys to making workshops work as a lead magnet to land clients are to capture contact information and to offer a next step.
Capture Contact Information
If you fail to capture your attendees' contact information, you have no way to follow up with them. And this drastically reduces your chances of landing any new clients. This is basic, but surprisingly easy to forget. At least it was for me until I implemented a two-step system.
Step 1 is to have a registration table at the door and require that people sign in with — you guessed it — their contact information. This is easy to do if you're hosting the workshop yourself, but harder (if not impossible) if you're the featured speaker at an association luncheon, for example. You're also not guaranteed to get every single person on their way in, which is why I've started implementing the second step …
Step 2 is to have a post-presentation survey for attendees to fill out before they leave. My standard survey is a half-sheet of paper with the title How Did I Do? I go on to say, "I'm committed to providing my audiences the very best experience possible, so I appreciate and welcome your comments. Please fill out this questionnaire and place it in the designated container before you leave today. Thank you!"
The survey itself consists of three ratings — rate the quality of the information you received today, rate the quality of my presentation style, and rate your overall experience with my presentation — and four yes/no questions, followed by a blank space for comments. (Bonus: Many of the comments can be used as testimonials for future promotional purposes.)
TIP: I've gotten nearly every attendee to fill out and hand in the survey by using the completed survey page as a "raffle ticket" for a prize giveaway. Starbucks gift cards ($5 each) tend to be highly effective at encouraging people to fill out my simple survey. The more people in the room, the more prizes I give away … so the chances of winning are high.
Offer a Next Step
It can be easy to get so caught up in delivering your valuable content that you forget to make an offer or have a call-to-action at the end of your workshop. I made that mistake several times before I scripted and memorized a smooth transition and created an evergreen offer that now rolls off my tongue.
The transition is critical because if you become too "sales-y" or if you're uncomfortable with your delivery moving into your call-to-action, you'll lose your audience. They'll disengage, and your presentation will end on a sour note.
Instead of sales-y, make your transition conversational and helpful. For example, "I can tell that a lot of you are finding this helpful. You've been engaging with me, and I really appreciate the energy I'm getting from you. But we've barely scratched the surface of [insert your topic] in the time we've had here today, so I've got a special offer just for you here in the audience …"
As I say this, I make eye contact with the people who have been the most engaged throughout the workshop.
An easy evergreen offer is a simple 30-minute free one-to-one consultation. Explain that during this free call, which normally costs $XXX/hour, your prospect will get the chance to ask specific questions and delve deeper into how to put your topic to work for their business.
Create scarcity by giving away only a set number of consultations, and develop urgency by requiring that they sign up for the free consultation before they leave.
You can have a sign-up sheet at the back of the room or by the door and simply ask, again, for their contact information. Or, your sheet can show specific dates and times that are available for these consultations. It can be visually compelling for people to see the available spots being claimed by their peers.
Make your offer BEFORE you move to Q&A. Using our transition example from above, " … I've got a special offer just for you here in the audience. Let me briefly tell you about it before I open the floor for Q&A …" By promising Q&A after you tell them about your offer, you give them a reason to stay engaged and actually listen. Just be sure to really be brief or you risk losing them anyway.
TIP: Offer a very limited number of these free consultations, but have a "waiting list" for people who didn't make it to the sign-up sheet in time to claim their spot. You can tell those on the waiting list that you'll notify them if you have any cancellations or if your schedule opens up for a few more consultations.
Land New Clients
Your one-to-one consultation is where you'll find out exactly how you can best serve each of your prospects. They will literally tell you what they need, and then it's just up to you to show why working with you is the easiest and best solution to meet their needs.
This is when you close the deal and land a new client … or at least get a high level of commitment so you can confidently send your contract for formal acceptance and initial deposit.
These lead-generating workshops are effective both as live, in-person workshops — either self-hosted or hosted by an association (and promoted to their members) — and as online webinars if your target market isn't local. Personally, I've had better success when speaking to a live room, but maybe that just means I need more practice with webinars!
I'd love to hear your thoughts and comments on this strategy of using workshops to land clients! Please leave a comment below.
This article, How to Use Workshops to Land Clients, was originally published by Wealthy Web Writer.

The Professional Writers' Alliance
At last, a professional organization that caters to the needs of direct-response industry writers. Find out how membership can change the course of your career. Learn More »

Published: July 15, 2015