Living Proof: Krista Jones Reveals How Writing Let Her Ditch Her Office Life for Good

Katie Yeakle here … back again to show you how the writer's life can mean something different for everyone.
All this week, I'm introducing you to some of our AWAI members … so you can learn about their version of the writer's life … see how they achieved it … and get their advice on how you can follow in their footsteps.
Today, I'd like you to meet Krista Jones …
Sometimes, the best career choice you can make is to take the nearest exit ramp.
Leaving – once and for all – was definitely on Krista's mind as she sweated her way through long summer commutes to her office in Atlanta. She was forced to be formal … regimented … and dressed up all the time as she worked as an environmental scientist.
It was not the career she'd imagined for herself when she first started studying natural resources. She loved the outdoors and protecting nature … and she wanted to get back to her roots.
AWAI's letter in the mail opened up her mind to the possibility of a better way. After thinking it over for a few months, she took the chance … and it paid off for her big time. She was able to completely reboot her life – and finally ditch that office job!
Read about Krista's journey from indoor worker bee to owning her own garden center – all thanks to copywriting!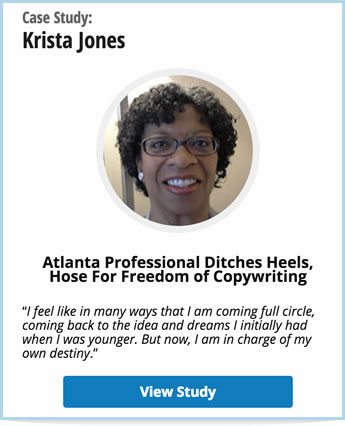 Now, here's my question for you …
Is there a way you could use copywriting to give yourself a similar "do over" on your life plans, like Krista did? What kind of life did you imagine for yourself when you were younger, and how could copywriting bring those old dreams, talents, and desires back to life?
Share your ideas in the comments, if you'd like. And tomorrow, I'll share one more story with you – one that stars a writer who very nearly talked himself out of his own success.

The Professional Writers' Alliance
At last, a professional organization that caters to the needs of direct-response industry writers. Find out how membership can change the course of your career. Learn More »

Published: July 9, 2015