One Thing Every Successful Copywriter Does

Thanks for joining me for Day 5 of my Writer's Life series on lessons I've learned on the path to my freelance business.
We began this week with a technique to meet fear head-on.
Then, we looked at strategies to get your first clients, and to make writing easier.
Yesterday, we covered three steps to ensure your article or promotion is clear.
Today, I want to share with you something I learned that can mean the difference between achieving a successful business … or watching your dream fade.
Early in my copywriting business, master copywriter, Clayton Makepeace, put out a call for new copywriters that he could train to help him with projects.
Now, as you may know, Clayton is one of the world's best copywriters in the health and financial markets. So, I was pretty excited at an opportunity to work with him.
Clayton's "application" was a spec assignment, which is work you do on "speculation" with no guarantee of payment, or in this case, employment. I sent in the assignment, as instructed, and eagerly waited for a reply …
… which never came.
About five years later, Clayton put out a call for another spec assignment. If accepted, the winner would get to work with him on a promotion for Weiss Research's Safe Money Report and get paid $12,500. This time, the winner would be announced at AWAI's 2013 Bootcamp.
I had always wanted to work in the financial publishing industry, so I decided to try again. I realized I had nothing to lose if Clayton didn't select it, but I could get a major boost to my business if he did.
So, I sent my spec assignment in, and then tried to put it out of my mind. Still, I nearly fell over when my name was read at Bootcamp as one of two winners.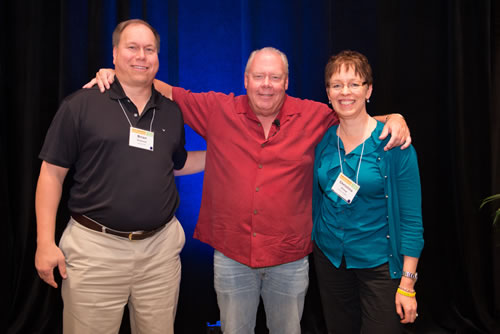 Clayton Makepeace congratulates Chris Allsop (right) and Brian Oschner (left) on their winning spec assignments at AWAI's 2013 Bootcamp.
The bottom line is, I took a chance, and the outcome has made a huge difference in my business.
And, I've discovered that opportunities like this appear in many different forms.
It may be suggesting a project to someone, even if you're not sure they'll be interested.
It may be attending AWAI's annual FastTrack to Copywriting Success Bootcamp and Job Fair, even if you think you're not ready.
It may be submitting specs, whether through Bootcamp or to a company you've always wanted to work for.
You've just heard my story. Yet there are countless examples of businesses and careers taking off because someone took a chance.
And, equally important … never, ever give up. If I had given up after sending my first spec to Clayton, I wouldn't be where I am now, working in the financial publishing industry.
If you love what you're doing, keep going, even if it's one step at a time. If you're persistent, your efforts will pay off in the end.
And, if you have any questions or comments for me, please leave them here.
I wish you every success in your journey to your dream freelance business!

The Professional Writers' Alliance
At last, a professional organization that caters to the needs of direct-response industry writers. Find out how membership can change the course of your career. Learn More »

Published: July 17, 2015