5 Ways to Add New Web-Writing Clients to Your Roster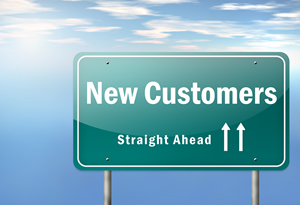 2015 is the biggest year for online copywriters yet. And, looking at the trends, I'd say the opportunity is going to keep growing for several years to come.
With the rise of tablets and smartphones, companies are rapidly adopting mobile marketing strategies to complement their existing traditional and digital marketing efforts. They need writers to help them achieve their goals.
Spending on social media ad campaigns is rising steadily. That means companies need writers to help them craft all the components involved in those campaigns.
Content marketing is on a meteoric rise. By the end of this year, nearly every B2B company will have a content marketing strategy in place. And well over half of them are looking for ways to make their strategy more effective. Enter a talented web writer like you.
The same trends are happening the consumer market. Millions of business-to-consumer companies need new content. They need their old websites updated. They need sales pages, promotional emails, e-letters, and more.
My point is, it's a very good time to be a web writer. The opportunities are unmistakable. But to capitalize on the opportunity, you have to be able to land clients.
This is where I see many great writers come to a screeching halt. They simply aren't sure how to find, approach, and land clients. If you're nodding and experiencing that unpleasant-but-familiar sinking feeling in your stomach, let me share a few insights I've learned over the years … insights that will help you land clients faster and easier than you might expect.
I have five strategies I count as my favorites and find myself recommending to writers quite often.
#1. Don't Overlook Local Opportunities
One of the amazing things about the Internet is that you can potentially work with clients from anywhere in the world. In the face of all that possibility, it's easy to forget what's available right in your own backyard.
But you gain some big advantages when approaching local clients. First, there's the chance to have a face-to-face meeting. Nothing moves the process of landing a project along faster than actually sitting down at a table with a decision maker to discuss the details.
There's also this sort of implicit trust that comes with being local. You're from the same place. You have some shared history, some shared understanding. That's why most businesses, when they have the choice of hiring someone local or hiring someone far away, will choose the local candidate.
Consider your niche and make a list of the businesses near you that would be a good fit for your services. Then drop them a line. You could send a postcard. You could call them. You could actually walk in the door and introduce yourself. Just remember, you already have common ground — you come from the same town or city. That's often enough to make that initial contact feel less intimidating.
#2. Start Publishing
For writers, this is probably the most natural method of finding clients. It's the one I like best.
There are so many places you can get published. You can write for print magazines. You can write for online websites and publications. You can write for blogs in your industry. You can write special reports for your own website. Or write to publish on Amazon.
The key is, whatever you write and wherever you publish, you want it to be somewhere that your target audience will see you. They'll see what you've written. They'll see you can write and that you have good ideas. And they'll see your byline.
Some of those audience members will be in need of a web writer right at that moment. And there's a good chance, if they like what they read, that they'll reach out to you to be their writer.
I've landed a ton of clients through publishing. The best part is, there's no rejection. The clients come to you. Not the other way around.
#3. Build a List
This builds on the publishing strategy. Once a week or once a month, send out an e-letter that's filled with good, original information that would be useful to your target audience.
You can publish some of this information on your blog as well. Then, invite your existing clients to sign up for your e-letter, invite them to share the e-letter with others in the industry, and provide a way for people to sign up for your e-letter on your website.
Send your e-letter consistently and provide the quality you've promised. What you're doing is keeping in touch with your prospects. You're showing them that you're credible. You're showing them the quality of your work. And you're staying in front of them.
When they need a writer, you'll be the one they think of. And again, they'll reach out to you. That's much better than you chasing after them.
#4. Partnering
When you're writing for the Web, there are a lot of people involved with the final outcome of your work. Of course there's your client. But there's also a web designer. There might be a marketing consultant. There could be a social media manager or a Pay-Per-Click expert. There might be a graphic designer.
A lot of these people will potentially be freelancers as well.
So why not work together again on future projects?
If you partner with another freelancer who works on the same kinds of projects you do but in a different capacity, you leverage your marketing. And they leverage theirs, too.
My favorite way to do this is with a web designer. A lot of times, when a company goes to a web designer, they also need someone to write the copy for the website they have in mind. Similarly, when a client comes to you for web copy, they may also be in the market for a web designer.
So, when you're partnered with a web designer, the designer agrees to send you referrals when he has a client that needs a writer. And you agree to send him referrals when you have a client that needs a web designer. It's win-win for you and the designer. Plus, it's good for your clients, too.
#5. Tap Your Existing Network
Whether you realize it or not, you've accumulated quite a list of contacts through your life so far. Your extended family … friends you knew growing up … friends you made in high school or college or both … former employers and colleagues … people you've volunteered with … people you've gone to church with …
Anyone you've ever been on friendly terms with. They're part of your network. When you're looking for new clients, these connections can be extremely powerful.
Think about all the people you've met in your life. Do any of them work at a company you'd like to work with? Do any of them know someone at a company you'd like to work with? Do this and before you know it, you'll be thinking, "Hey … I worked with Jack three years ago and now he's at Acme Widgets, doing their online stuff. I should give him a call."
It's always easier to call someone you know and say, "Hi, do you remember me?" than it is to call a complete stranger.
For this strategy, make a list of everyone you can think of that you have a connection with. Then look them up on LinkedIn. See what they're doing, where they work, what their recent work experiences are. Then reach out to them. Start making connections and nurturing relationships. And, let them know what you do now. You never know when that simple conversation will lead to a project and a new client.
Getting clients is often the main stumbling block web writers face. If you're a new writer looking to land your first client or an established writer looking to break into a new industry, these five strategies can help you land those clients faster.
This article, 5 Ways to Add New Web-Writing Clients to Your Roster, was originally published by Wealthy Web Writer.

The Professional Writers' Alliance
At last, a professional organization that caters to the needs of direct-response industry writers. Find out how membership can change the course of your career. Learn More »

Published: August 19, 2015