Still Dreaming of Being a Freelance Writer?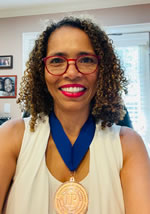 Carline Anglade-Cole
Still dreaming of being a freelance writer?
Well, I'm going to show you how to conquer – and even embrace – your fears … get off your butt … and make it happen!
Let me warn you right now … I'm not pulling any punches. Not holding back. Not accepting any excuses. And, taking NO prisoners.
So, STOP READING NOW – if you can't handle the truth!
Because, the truth is: If you've been seriously thinking or dreaming of becoming a freelance writer – you're your WORST ENEMY.
It's not your spouse. Not your family obligations. Not "the market." It's Y-O-U!
And, I'm going to show you how to get out of your own way – and turn your dream into a reality.
So, let me apologize NOW – because I plan to step on some toes.
But, what I'm going to do for you this week is going to be a life changer – and I mean that in a GOOD way!
And, what I'm going to do for you right now is what a few folks did for me back in 1999 when I took the leap … I said goodbye to a 9-to-5 job with a STEADY paycheck and (yikes) BENEFITS, like a 401K plan, paid holidays and vacation time, and sick leave!
(I thought I was an adventurous, free-spirited person – until the thought of losing the stability of a REGULAR paycheck made me feel woozy!)
I wanted to take the freelance jump YEARS before I mustered up the courage. I was scared as heck – and that fear gave me the "out" to create all sorts of excuses like:
"We need the money."
"Our four kids will starve."
"I'm not ready."
"What if I suck?"
But then, one day, I SNAPPED! I started hearing "voices."
And those voices were coming from people like:
My husband Mick – who said "Hey, honey, we started off in a one-bedroom, roach-infested basement apartment in Hyattsville, MD, and we were happy – so, we can always go back to it if we have to …"
Clayton Makepeace – the #1 copywriter working for Phillips Publishing – who said, "You got talent, kid – now get some guts …"
My friend Denise – who said, "Giirrrllll … are you serious? That's awesome – you can do it! … and I've got food whenever you need it!"
So, my first assignment for you this week is:
Create your own cheering squad.
Get rid of – or at least tune out – the haters … and surround yourself with a support system – a small group of people you trust and who believe in your dream.
So, when you start to get in your own way … pick up the phone, email or pop into one of their homes and get that encouraging BOOST – and even the kick in your pants you need – to stick with your goal!
I'll tell you the truth: Without my support group – I would've chickened out and never fulfilled my dream. These folks gave me the nudge … push … and even shoulder to cry on – when I needed it!
You're going to need people like that in your freelance life, too!
So, line up your cheering squad! And, let me know what obstacles you're facing that are preventing you from experiencing your dream of the freelancer's life – so we can tackle them together! Share your comments here.
Right now is the absolutely BEST time to make that freelance leap!

The Professional Writers' Alliance
At last, a professional organization that caters to the needs of direct-response industry writers. Find out how membership can change the course of your career. Learn More »

Published: August 10, 2015