Supercharge Your Google Searches

Better research makes for better writing.
Period.
In fact, some would say that what often masquerades as writer's block is actually just a lack of research and preparation.
What if I told you that I know of a free and easy tool that can help you be both a better searcher and a better writer, and maybe even cure writer's block?
The answer might surprise you.
It's Google.
You probably use Google every day, but what you might not know is that Google has an awful lot of tricks up its sleeve to help you apply a laser-like focus to your online searches.
With these tricks and tips under your belt, you'll be on your way to becoming not only a better searcher, but a better writer.
Let's start at the beginning …
The Implicit AND Search
If you just open up Google and type a few words into the Google search bar, the search you're getting is called an implicit AND search.
Wait, what?
Yes, it does sound weird and complicated, but it just means that ALL of the search terms you enter must be found in the page that is being returned.
For example, if I enter my name in the search box …

Every page returned in the search engine results pages (SERP) will have both Jim AND Wright in them. That's really the only rule.
Now, while the search results will give preferences to Jim Wright, there's nothing that states that these terms have to be together as a unit. I'm just as likely to see pages in the results that have Jim Johnson and Bill Wright in them. Even though they aren't together, Jim and Wright are both on that page, so it will be returned in the search results.
This type of search will usually return a lot of results. When I did this search, there were almost 93 million hits.
The Literal Search
If I'm interested in Jim Wright and don't really care about Jim Johnson or Bill Wright, then I can focus my results by performing a literal search.
A literal search looks like this …

What this search tells Google is that I am "literally" searching for the term Jim Wright — together, as a unit, and in that order.
This literal search for the same term returned about 400,000 results compared to the almost 93,000,000 from just searching for Jim Wright.
The downside of the literal search is that you may miss results that aren't an exact fit. It is, after all, a "literal" search.
Pro Tip: You can use a literal search to find out if some of your content has been "lifted" from your site. In the example below, I pasted in a short passage from the Services page of my website and put it between quotes to make it a literal search …

Since Google only found one result, and it's on my page, that's a good sign that my content (or at least that part of it) hasn't been plagiarized.
It's also a sign that my page is in the Google Index!
An interesting side note is how Google changes its guessing for what you really meant to search for …
If I search for Michael Jaksen (an implicit AND search), Google will just show me results for Michael Jackson and ask me if I meant to search for Michael Jaksen.
If, on the other hand, I search for "Michael Jaksen," (literal search) it will show me results for Michael Jaksen, but ask me if I meant to search for Michael Jackson.
The OR Search
Where the literal search is more focused, the OR search is a less focused search.
Let's take our original search term, but use the OR search (the OR must be in all caps, or Google will just treat it as the word "or," and ignore it).

This time, in addition to returning pages that have Jim AND Wright on them, Google will also return every page that has just the term Jim, plus all the pages that have just the term, Wright.
As you might imagine, this will greatly increase the number of pages returned.
Again, for comparison, the AND search returned around 93 million results while the OR search returned well over 900 million.
Why would you want to do this?
It does come in handy when two terms are used interchangeably to mean the same thing; for example, car OR automobile, diet OR weight loss, etc.
Though you're more likely not to miss anything, you will have a lot of results to wade through!
Smooth Operators
While you do have some flexibility in the types of searches (AND, literal, OR) you can do, you can also take your searches to the next level by using the many Google search operators.
Here are two of the most useful:
The Minus Operator
The Minus, or "-" operator is used to weed out stuff you're not interested in, but that coincides with what you're looking for.
For example, if I'm searching for pages on tigers (the animal), I'm invariably going to be bombarded with results about the Detroit Tigers.
Minus operator to the rescue:
Before …

Will return this results page …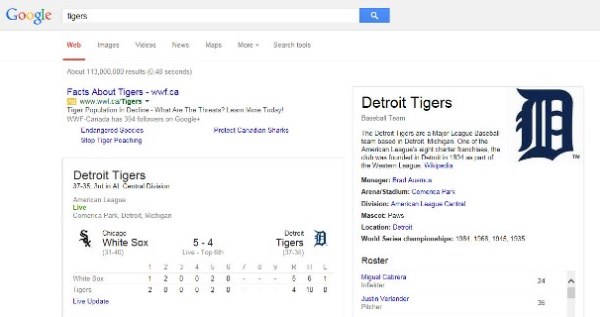 Now, let's add the minus operator to remove search terms related to Detroit …
And now, we get …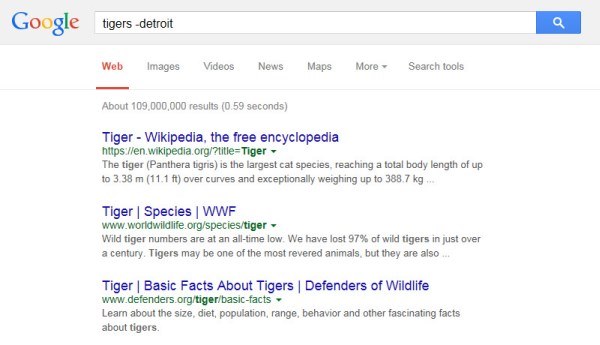 By adding -detroit (note that there is no space between the – sign and detroit) to the query box, all references to the Detroit Tigers have vanished.
You can make this even more efficient by using more than one …

Using this technique can quickly make exactly what you're looking for jump right up to page one of Google … a huge time-saver!
The Site: Operator
The Site: operator is another very useful search operator. It allows searches only from specified domains.
This is how you use it …

(Usage note: When using the Site: operator, no spaces are used, and when specifying a domain, use the version without the www. Then, just add the search terms as you would normally.)
This query will search for the term "email" but only on the B2B Writing Success website.
If you use the Site: operator without any search terms, it will return all of the pages that are listed in the Google Index for that site (good information to have).
You can also search by top-level domain (TLD). (A top-level domain is the .com, .net, .ca, .co, .edu, .guru, .info portion of the domain name.)
For example, if you're using Accounting as your search term, but only want results from .edu domains, then do this:

Your results page will only include pages from websites ending in .edu.
Pro Tip: If you need to search a particular website, but the site doesn't have a search function (or it doesn't work very well), you can use Site: to perform a surprisingly effective site search.
Pro Tip: Using Site: is also a great way to check to see if your site has been hacked. Hackers will often add hidden pages to your site, but since they're not in the navigation, you'll never know they're there — unless you use Site: to check.
Here's an example of this in action: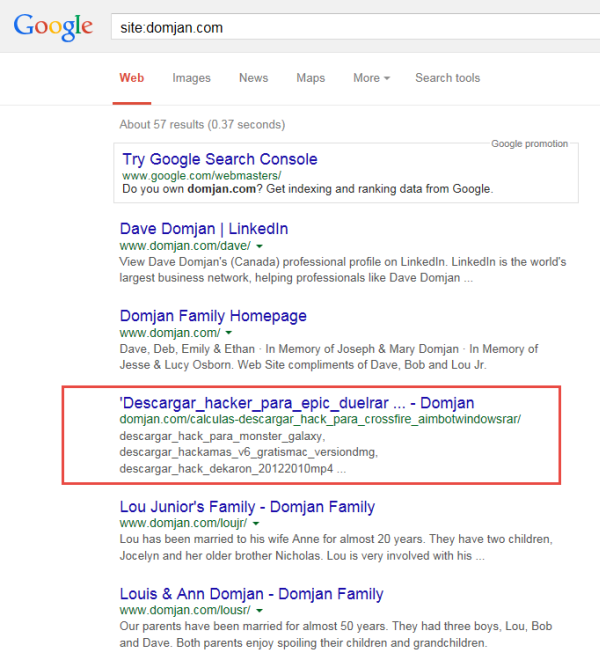 This is an actual Site: search result on the website of a former student of mine. The result in the red box is an example of a page added by a hacker, which otherwise would have never been found.
This tip alone is worth its weight in gold!
More Refined
Another way to refine your results is to use "Search tools" …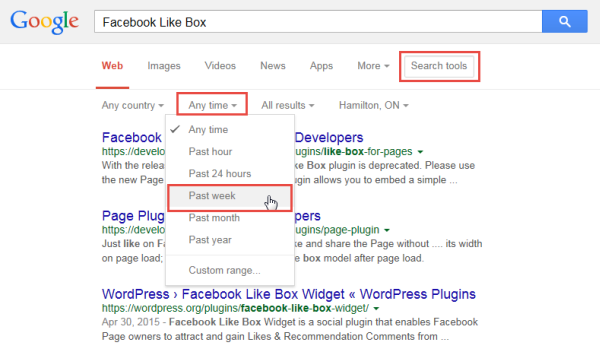 By clicking "Search tools," you have options to refine your search results by country, by time, by results (news, blogs, etc.), and by location.
I use the time searches whenever I'm searching for anything to do with technology or any fast-changing field.
In the example above, if I'm searching for tips on using a particular Facebook feature, there's no point looking at a page from a year ago, as Facebook will have gone through a million changes since then. Any information I find from that far back will most certainly be out-of-date, and my search time will have been wasted.
By narrowing search results from the past week, or month, you're sure to get the most current information.
Mix and Match
Now comes the real power!
The best thing about all of the above tips and tricks is that you can combine them.
Looking for information on panda bears but don't want to wade through information on Panda's Security Software or Google's Panda update? Oh, and what if you don't trust Wikipedia as a source?
No problem …

This will quickly give you precisely what you're looking for, and most likely, all on page one.
And yes, you can use a minus operator with Site: to exclude results from certain sites!
Search While You Sleep!
Now it gets fun!
What if you could hire an assistant to do your searching for you — someone who would search the Web for you day and night, and report to you when something was found?
Meet your new assistant: Google Alerts.
You can use Google Alerts to set up searches and monitor the Web to find what you're looking for, and report back to you.
And here's the best part: all of the tips we've been looking at can be used when you're setting up your Alerts.
Pro Tip: Have a dream client or company in mind? Set up a Google Alert to keep tabs on them, and you'll be notified if any news about them hits the Web.
Pro Tip: You didn't hear this from me, but Google Alerts are also a great way to monitor your competition to see what they're up to.
Two Bonus Tips
Google searches aren't case sensitive; Jim Wright, jim wright, and jIm WrIgHt will all return the same results.
Google, as a rule, ignores punctuation and question words like what and how, so just type in the terms you're looking for; don't worry about typing in the whole question.
Your Turn
With all this time you're going to save, let me know if you have any questions, or take the time to share some of your favorite search tips in the comments below.
This article, Supercharge Your Google Searches, was originally published by B2B Writing Success.

The Professional Writers' Alliance
At last, a professional organization that caters to the needs of direct-response industry writers. Find out how membership can change the course of your career. Learn More »

Published: August 6, 2015