Three Times You Should Say No to New Work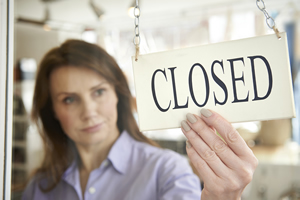 Let's set the scene …
You're a freelance web writer. When you were first starting out, you were eager for experience … and for paychecks. So you were willing to take on just about any project that came your way. You didn't negotiate much for fees. You weren't working for peanuts exactly, but you had room to grow.
And that's just what you did. You grew. Your skills got sharper. Your clients got bigger. And your fees went up.
You built a name for yourself in your industry, and now you have more work than you can take on. The problem is, you're still saying Yes to everything that's coming your way.
It's a good problem to have. But it is a problem. One that you need to deal with.
Every successful freelancer eventually reaches the point where they have to say No. The question is, when should you say No? And how do you do it without upsetting your client? After all, the relationships and the reputation you've built are important to you. You wouldn't want to damage either.
The first step is to figure out when you'll say No. If you define ahead of time your criteria for taking on a new project, it's easier to turn work down that doesn't fit your pre-defined needs.
Three Times When You Absolutely Should Say No
You may come up with more than a dozen reasons why you wouldn't want to take on a project, but these three biggies should definitely make your list.
1. You Can't Meet the Deadline
If a client comes to you with a project that they need in two weeks and you simply don't have the time in your schedule to do your best work and deliver it within that time frame — or if the deadline is unreasonable for the project in question — that is a situation where you should say No.
It can be as simple as saying, "Unfortunately, I'm not able to meet that deadline, but I appreciate that you thought of me."
Saying No because of deadline problems is easiest when you are honest with yourself about how many projects you can take on at once, how many hours in a day you want to work, and how long your typical projects take you. If you have an idea of each of these things, then you'll have a good idea if you have time in your schedule for any new projects that come up.
If you aren't sure about these things, you're likely to say Yes to projects you may not really have time for. And that means working more than you want.
If a project comes your way with a deadline that won't work for you, but you're really interested in taking on the project, see if you can negotiate. You might say, "This project sounds like something I'd love to do. I'm booked through the next two weeks, but after that I could complete it by xx date." Or you could say, "A project like this usually takes xx hours/days to complete, so I'd feel more comfortable agreeing to a deadline of xx date."
The worst that can happen is your client says he can't move the deadline and you don't land the project.
2. The Budget is Too Low
Once you reach the point where you're attracting clients — they're emailing you and calling you to line up your services — you will get potential clients who want you to work for less than your standard rates. Unless you're really excited about the client or the project, this is another time where No is your friend.
Once you're keeping busy with clients who are happy to pay your rates, you don't need to kill yourself working for clients who don't place as much value on your time and skills.
You don't need to apologize for your rates, either. Simply say, "For that project, my fee is $xxx.00. I'm not able to do it for the budget you're suggesting."
Polite and professional.
3. The Client is Not a Good Fit
We all have people we get along great with … And then other people we don't enjoy quite so much. The same is true in the business world. There will be clients you love to work with. And there will be clients who drive you crazy.
Fortunately, the longer you're in business, the easier it gets to recognize when a client just isn't going to be a good fit. And once you're well established with a steady stream of work coming from your regular clients, you have the luxury of turning down projects from potential clients (or existing clients) who you know won't be fun to work with.
This also goes for clients in industries you aren't interested in or who are asking you to do projects you don't enjoy. For example, if you love writing direct-response sales letters, but don't get nearly the satisfaction out of writing e-letters, then don't feel like you have to take on e-letter projects. You can and should say No.
In this case, keep your refusal simple. "That's not a project I can take on at this time." Or "Right now, I'm only available to take on sales letter projects."
Saying No the Easy Way
I know I make it sound easy. But saying No to new work is hard. It can even be a little bit scary. That's why I have some tips that will make it much easier. If you do it right, your potential client will finish the conversation feeling grateful to you for how you handled the situation.
Step One: Know Your Boundaries
The first step is to know your parameters. At the beginning of each week, review what's on your plate and determine if you're able to take on new projects. If not, choose the date when you could start new work.
Set up a rate and time frame schedule for your own personal use. List all the projects you usually do, along with the range of rates you find acceptable and the average number of days you like to have to work on a project. Keep in mind how you like to break your projects apart. For instance, I can write an article in a single day, but I prefer to have three to five days so I can put some time between research and writing and between writing and editing — I find I do better work that way.
Make a list of the industries you like to work in and the types of projects you like to do.
When a new prospect calls to ask about your services, put all this information in front of you as you talk to her. Consider carefully if what she is asking you to do is aligned with your goals. If it's not, it may be time to say No.
Step Two: Practice Declining Without Drawn-Out Explanations
Based on the three most common reasons to turn down a project, practice declining new work without providing more than a basic, simple, and polite explanation. If the thought of telling a client No makes you break into a cold sweat, find someone to role-play with.
Practice saying the words out loud. This can really help when the time comes to actually turn down a project.
Step Three: Leave the Door Open
If you think the client is a good fit for your work style, make sure you leave the door open. So for example, if you're saying No because of a deadline issue, follow up with, "Thank you for thinking of me. I hope you'll come to me again the next time a project comes up — I'd enjoy the opportunity to work with you."
Step Four: Provide a Referral
Unless you have the sense the prospect is going to be a real bear to work with, it's a good idea to offer a referral. Start developing a network of writers you can refer projects to. (Connecting with other writers on Wealthy Web Writer is a great place to start.) This works especially well if you know some writers who are a little newer to all this than you are. Their rates will be lower and their schedule will likely be more open. Then, when someone wants you to work for half your normal rate, you can say, "I won't be able to do the project for that budget, but I know xyz copywriter who does good work, and who I think will be a good fit."
Learning to say No is vital to the health and growth of your web-writing business. It's a little scary at first, but just keep in mind how great it is to be in the position to turn work away. Then be polite, professional, and helpful. You'll come away with your relationships and reputation intact. And you'll get to put all your focus on the projects that bring you the most satisfaction.
This article, Three Times You Should Say No to New Work, was originally published by Wealthy Web Writer.

The Professional Writers' Alliance
At last, a professional organization that caters to the needs of direct-response industry writers. Find out how membership can change the course of your career. Learn More »

Published: August 5, 2015