Live: The Barefoot Writer September Issue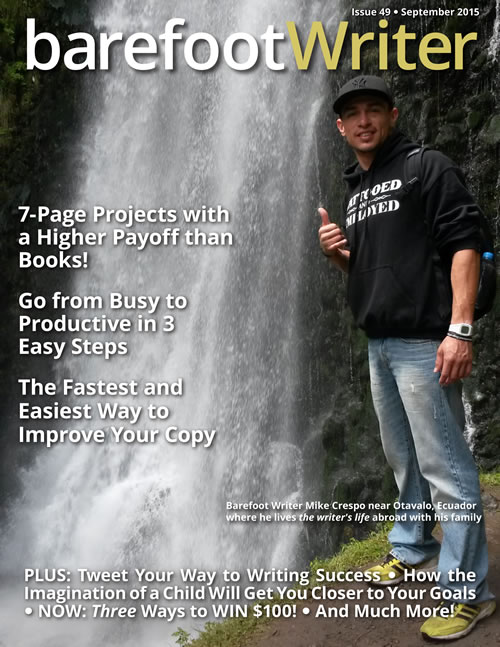 Are you in a rush to earn more money and land more paid writing projects?
Maybe expand your list of services? Or bump up existing fees?
We hear you, and all those steps are important to growing your career — as long as they're well thought out. Because as the lazy days of summer come to a close, and most of us race headlong into the final billing months of the year … it's easy to get tripped up.
The Barefoot Writer staff and I are here to keep you focused on the writing path that's best for you. That's why our September issue reveals
3 steps to take you from busy to productive
The fastest (and easiest!) way to improve your copy
How to tweet your way to writing success
Why the imagination of a child can bring you closer to your writing goals
Where to find 7-page projects with a higher payoff than full-length books
Remember, sometimes it's smart to give yourself a little space and time to ensure you're on the right path. After all, Tarzan didn't become a bestseller in a day. Though he did eventually go on to have a whole town named after him! (See page 26.)
Click here to read your September issue of Barefoot Writer.
Not a subscriber yet? Click here to learn more about becoming a member of The Barefoot Writer and start living the lifestyle you want by writing.

The Professional Writers' Alliance
At last, a professional organization that caters to the needs of direct-response industry writers. Find out how membership can change the course of your career. Learn More »

Published: September 4, 2015