To Succeed as a Freelancer, Forget Everything You Learned as an Employee

As an employee you have to fit in.
Do as you're told. Don't rock the boat. Follow the rules. Stick to the schedule. Color inside the lines, always.
Everything is structured. It's all about the company or organization, and rarely about you.
We're boxed in and cut off from the opportunity to explore and expand our own talents and passions.
The same thing happened at school. We were told which subjects to study, which books to read, which tests to take, which rules to follow.
After all those years of education and employment, it's little wonder that people feel stuck in a certain way of thinking about themselves, their work, their value and their potential.
And then – when people first start out as freelancers – they still try to follow the old rules. They bring that cubicle mindset with them, and don't know how to break out.
To better understand what I mean, take a look at some of the key differences between working and thinking as a student or employee, and working and thinking as a freelancer.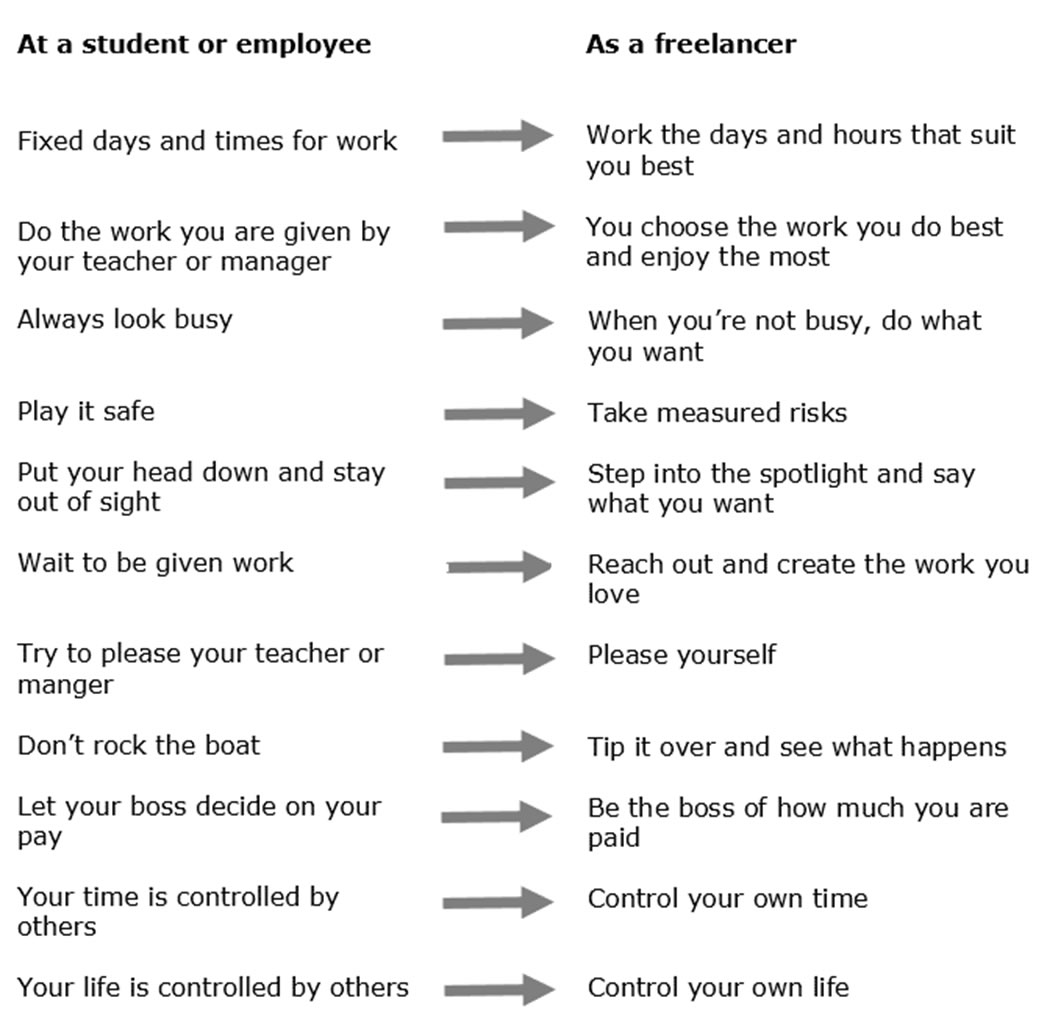 If you have already been freelancing for a while, work through that list and ask yourself whether that left column contains some behaviors you're still sticking to.
Are you still working nine to five as a freelancer? If so, why?
Are you still keeping your head down doing "busy work" just to look like you're working? If so, who are you doing that for? Who's watching?
Are you saying yes to every unreasonable request made by your clients? If so, why? They're not your boss or your high school principal.
Are you allowing your clients to dictate how much you are paid for each project? If so, why? They're not your boss. You're the boss. Negotiate.
Are you working on projects you don't really enjoy? Are you doing stuff that doesn't allow you to give expression to your greatest talents and gifts?
If so … WHY?
Really. Why punish yourself like that?
The fact is, most of us bring that cubicle mindset into our lives as freelancers. It's tough to break free of the decades of conditioning we were subjected to at school and at work.
We keep following those same behaviors. Ask a psychologist why we do that and she'll tell you it's about "learned helplessness".
In other words, decades of experience have taught us that to get ahead, to get good marks and positive annual assessments, we have to follow the rules. And we learn that we are helpless to change those rules.
Truth be told, I'm not immune to these "carried-over" behaviors myself. It took me years to get past the feeling that my clients were my boss, and that I should say yes to their demands even when I didn't want to.
I also made myself a victim of "keeping busy". I would stuff my week with all kinds of projects and tasks, in the belief that being busy in and of itself was somehow a badge of honor.
Now for the good news …
You're not helpless. Far from it.
Yes, the vast majority of us who set up as freelancers bring a lot of that self-limiting, learned helplessness with us.
But with a little self-awareness, you can start working through that list of behaviors and change them.
And as you check off each item on that list, you'll feel a weight being lifted from your shoulders.
Replace old habits with new and better ones.
Above all, dig deep and find what your true talent is. What kind of freelance work will allow your true potential to blossom?
To answer this question, you may have to go way, way back. Many of us had a sense of where our true strengths and talents lay when we are very young. But then we had that knowledge beaten out of us by schooling and employment.
Will getting out of the cubicle mentality help you in your career as a freelancer?
Absolutely it will. When you put yourself in the driver's seat of your own business, and follow a path of your own choice, it gives you a tremendous sense of freedom and a massive boost in self-confidence.
When you do work that inspires you, and not the work you think other people want you to do, every new day starts with the kind energy that makes great things happen.
When you are fully in control of your own destiny, and focus all your energy on pleasing yourself, and stop trying to please other people "in authority", you'll finally tap into the power to change your life.
That's what freelancing can do for you.
Finally, please take a few moment and add to this conversation in the comment stream below. Specifically, take a few moments looking at that list of employee behaviors and tell us which of those you brought into your own freelance life. Better still, add to the list!

Marketing Confidence: Learn to Love Marketing Your Business
Learn to love marketing your business, and start landing the clients you need to reach your financial goals. Learn More »

Published: September 21, 2015