The 4 Pillars of B2B Writing Success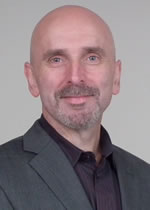 Steve Slaunwhite
I've been a freelance copywriter for more than 16 years, working mainly with business-to-business (B2B) companies.
During most of that time, the desk in my home office was a tatty antique table-desk with long, spindly legs. It was creaky, scratched up and about 100 years old. I loved it.
Unfortunately, the desk wasn't particularly stable. At one point in its history, a dog had chewed one of the legs down to about half its diameter. As a result, the desk was rickety at times.
Well, you can guess where this story is going!
One morning, while on a conference call with a client, the leg suddenly snapped. Everything on my desk tumbled off, including a full mug of coffee and my computer. By the time the laws of physics had done their worst, I had what I'm sure was a comical look on my face — still holding the phone receiver (no longer connected to the cord) to my ear.
I should have taken a selfie!
The only good thing that came out of that wonderful start to the morning is that I now get to use it as a metaphor.
Which is …
If you want your B2B writing business to be successful, you need to build it on four strong legs. Or, to use another metaphor: four pillars.
Those pillars are:
Commit to a target market.
Never stop prospecting.
Become a linchpin for each client.
Get really, really good at B2B writing.
If you do those four things well, there's not much that can stop you from building a thriving freelance business.
But, if just one of those pillars is weak, you risk being far less successful than you could be. Worse, you might not even get your freelance biz off the ground.
Whenever I speak to a freelancer who is struggling, the problem always — always — comes down to one of those four pillars. Either they're not targeting the right companies, or they're not prospecting effectively (or at all), or they're not becoming indispensable to their clients, or they're not investing in mastering their craft.
I don't want any of that happening to you. So, I'd like to invite you to take a journey with me this week.
Each day this week, starting tomorrow, I'm going to discuss each of these four pillars in a lot more detail, and give you tips and strategies on building a strong, sustainable freelance B2B writing business … . a business that is everything you dreamed it would be.
Care to join me?
If so, watch for my email tomorrow where I'll be covering the first pillar of B2B writing success: target marketing.
Until then … feel free to share your comments with me.

Modern B2B Copywriting
Learn everything you need to know to succeed as a B2B copywriter from marketing your services to writing copy and everything in between. Learn More »

Published: September 21, 2015