5 Ways to Use Social Media to Research Your Audience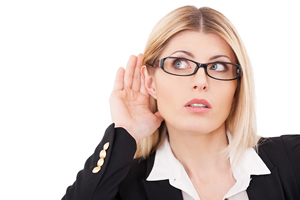 Your new web-writing client expects great things. You need to deliver results, and you need to minimize the learning curve and hit the ground running right from the start …
Sound familiar?
To write really great copy, you're aware you need to know your audience — their hopes, dreams, fears, anxieties. You need to know what makes their spirits soar and what wakes them up in a cold sweat in the middle of the night.
When you know your audience, your words can more easily establish the emotional connection the audience needs in order to know, like, and trust your client enough to do business with them.
So how the heck do you get to know an audience?
Easy. Social media.
Even if your client isn't active on social media <gasp!>, their clients and prospects — your audience — most likely are. So here are …
5 Ways to Use Social Media to Research Your Audience
1. Find the Audience
Before you can get to know the audience, you need to find it. If your client has profiles and/or pages on social platforms, start there. Look at their competitors. Also look at the brands they carry or are affiliated with.
For example, when I started working with a local retailer that specializes in gear for runners, I browsed through the Facebook pages of the brands they carry. I looked at the fan bases of Saucony, Asics, New Balance, Moving Comfort, BodyGlide, and more. By doing so, I found my client's target audience of runners.
And even better, I found an audience of runners who like the brands my client sells … the same kinds of people we want to attract to my client's stores!
Look for pages that have a high number of engaged followers who have expressed an interest in products and/or services similar to what your client offers. Don't just look at the number of followers. Evaluate how many are actively engaged.
2. Pay Attention to What Engages the Audience
Once you've found the profiles and pages that have attracted the same audience as yours, you can start digging a little deeper to discover what that audience is actually interested in.
Look for commonalities in posts that get commented on. Are there topics or issues that come up repeatedly? Maybe specific keywords? How about a hashtag (#) word or phrase that's used frequently? Take notes as you go along and look for patterns.
If you're lucky enough to find people who are ultra-engaged with your client, their competitors, or any of the individual brands, click through to their profiles and see what you can learn from what they post.
3. Use Hashtags to Expand Your Search
If you've found frequently-used hashtags on one page, run a search to see what other pages or people are posting using the same hashtag. Sometimes this can expand your research dramatically.
For example, #CouchTo5K is a popular hashtag with beginning runners — the premise is that they're getting off the couch and training to complete a 5K (3.1 mile) race. A search of #CouchTo5K on Facebook yielded posts by brands promoting various training programs and gear as well as individuals celebrating their progress … and challenges … with pursuing this goal. A gold mine of emotional fodder!
4. Observe and Participate in Relevant Groups
Observing conversations in topic-specific groups can give you valuable insight into your audience as well. Keep in mind that you're researching an audience and be a keen observer of what gets people fired up and passionate.
You can find social media groups by filtering your search to show groups instead of posts or pages. On Facebook, for example, the default search filter is "Top" — which will deliver what Facebook deems to be the "top" results. You can also filter by "People," "Photos," "Pages," "Places," and "More."
Under "More," you'll find "Groups." By clicking on "Groups," you'll now see the groups related to the search term you entered.

Most groups will be closed, or private. But you should be able to find some public groups as well. Join them, and observe what's being discussed.
If you've got the luxury of time to also participate in a group, you'll need to mind your manners and play by the rules of the group, which frequently include no selling. Spark a conversation by asking thought-provoking questions or participate by leaving insightful comments, but remember that your primary role should be an observer who is there to learn more about what's important to this audience.
5. Create and Use Lists to Easily Find and Access Your Research
Save your results to lists so you don't have to reinvent the wheel each time you need to do more research.
For example, remember the brand pages I mentioned above that I found during my initial research for my running store client? I created a Facebook "Interests" list and included all of them on it. I named the list "Running" and made it private so only I could see it. I could have made the list public (default) or accessible by friends, but I thought the private "Only Me" option was more appropriate for this one.
Now, whenever I need to do more research, I simply click on my Running list (located in the left column on Facebook) to see the recent activity on those pages.
BONUS: Once you've created your list, Facebook also provides "List Suggestions" of additional pages you might find relevant.
Be Mindful of Your Purpose
Researching an audience on social media can become a bit like Alice falling down the rabbit hole. You're apt to find many interesting tangents to explore. Some may be useful to the task at hand, while others likely aren't.
It's critical to remain mindful of your purpose, which is getting to know your client's audience so your copy establishes an emotional connection with them.
While I used Facebook for my examples, other social sites have similar functionalities. I tend to use Facebook, Twitter, and LinkedIn most often, but you should always go where the audience is.
Social media is a powerful research tool for web writers. When you're able to know and connect emotionally with your audience, your copy will produce the results your clients want and deserve … and you'll become their go-to copywriter!
If you've enjoyed this article and found it useful, I'd love to hear from you! Please leave a comment below.
This article, 5 Ways to Use Social Media to Research Your Audience, was originally published by Wealthy Web Writer.

The Professional Writers' Alliance
At last, a professional organization that caters to the needs of direct-response industry writers. Find out how membership can change the course of your career. Learn More »

Published: September 2, 2015