Special Announcement …


AWAI Names Carline Anglade-Cole
as the 2015 Copywriter of the Year

Every year, AWAI celebrates a copywriter who has excelled in their career and has also been active in contributing to the training of copywriters and marketers.

Well-known as one of the top copywriters in the health and nutritional supplement niches, Carline Anglade-Cole was named the Copywriter of the Year for 2015.
Introduction
Acceptance
"Twenty-eight years ago – when I accepted a part-time customer service job at a direct mail company – I had no idea it would put me on the path to receiving the 'Academy Awards' of the copywriting industry!" says Carline.

"Receiving the 2015 AWAI Copywriter of the Year award is an honor, a humbling experience, and a motivating factor to continue to accelerate in the best job I've ever had!"
Carline's freelance career began in 1999 when she left the corporate world to go out on her own. Among her many accomplishments, Carline has written multi-year controls for Health Resources, True Health, Weiss, NatureCity, Soundview Publications, and many more clients. She was instrumental in the launch of O Magazine in direct mail.
She's also an enthusiastic mentor willing to share her best strategies and success secrets with up-and-coming copywriters. It's only fitting that the announcement of the award was made at Bootcamp, where Carline was a featured speaker sharing her copywriting knowledge and experience with the assembled AWAI members.
Past winners of this award include Bob Bly, Clayton Makepeace, Donna Baier Stein, Nick Usborne, Richard Armstrong, and Dan Kennedy.
There's A Reason Why Members Don't Hesitate When They See This Invitation: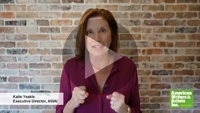 It's not something that's offered year round, when it is, we can hardly keep up with demand. I'm talking about the top level of AWAI membership savvy writers use to advance their knowledge and writing careers. Every resource is available at your fingertips along with live learning, guided mentoring sessions, professional copy reviews, access to clients, FREE admission to Bootcamp and more! But spots go fast.
Here's how to reserve your place.
Published: October 17, 2015