The Best Way to Land Your First Paying Social Media Client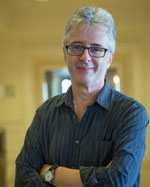 Nick Usborne
In yesterday's article I wrote about how social media stands out as the kind of writing work that almost ALWAYS comes with a monthly retainer deal.
This makes it pretty much the only kind of writing gig that puts retainer deals into the hands of freelancers who are in the early stages of their careers.
Today I'm going to share a 4-step plan you can use to land one of these retainer deals for the first time.
Here goes …
1. Find your niche or industry.
As a social media writer you're going to be doing a lot of writing. So you'll want to write about a topic that interests you. That could be finance, health, home and garden, consumer electronics, travel, relationships. The choice is yours!
If you have already chosen a niche for your online copywriting business, pick the same niche for social media. (You'll learn why this is important in the fourth of this series of articles.)
Once you have chosen your niche or industry …
2. Create an Excel page or equivalent and make a list of 50 companies.
That's 50 companies in your chosen niche or industry. Find the companies by searching through Google. It takes a little time, but isn't hard to do, and worth the effort.
In the first column list the names of the companies.
In the second column list their web addresses.
In the third column add their contact email address or the url of their site's contact page.
Now go to each site, and look for their social media icons for Facebook, Twitter, LinkedIn, YouTube, Pinterest and so on.
Click through to each and get a feel for how well they are doing. Do they update their Facebook at least once a day? Do they tweet a few times a day? Do they respond to comments and messages? Are they conversational in their writing style? Are they being social? (As opposed to simply using social media as a broadcast channel to pitch their products or services.)
In the fourth column of your spreadsheet, rate each company. Give them a 1 if they are doing a terrible job with social media. Give them a 5 if they are doing an amazingly good job.
Reach out to your list of prospects with ratings or 1, 2 and 3. Why? Because it's the companies that are doing social media badly that offer the best and easiest opportunity.
3. Reach out to your list of prospects with ratings of 1, 2 and 3.
Make your first contact super-simple. Use their basic contact email address, or the form on their contact page.
Here's what you say:
Hi,

My name is Nick Usborne and I would really appreciate it if you could give me the name and email address of the person in your company responsible for Social Media Marketing.

Thanks in advance!

Nick

Nick Usborne
That's all you write. Why? Because there is no point in pitching yourself until you know who you should be talking to. A perfect sales pitch to the wrong person will do you no good at all!
4. Start the conversation …
Once you have the right name and email address, send a slightly longer email to introduce yourself. Don't make it a long, detailed pitch. Keep it simple. You're not trying to close the deal with one email. You're just trying to start a conversation.
Ask them if they ever use outside freelancers. Tell them you're a social media writer. Tell them you love their industry and company and would love to work with them. And that's pretty much it.
If they are even remotely interested, they'll email you back with some questions. That's the time to start going into more detail and pitch your expertise and services.
OK … that's the four-step plan. Super-simple and it always works. That list of 50 companies should give you your first client. If not, try another 50. It's a numbers game.
Once the conversation gets to the point where they ask you about your pricing, here is a rough guide, based on a couple of assumptions.
You don't have a ton of experience yet as a social media writer.
You are approaching small to mid-sized companies, not the big players.
For a single channel, like Twitter or Facebook – $1,250 a month
For two channels – $2,000 a month
For three channels – $2,500 a month.
As you can see, the more channels they give you, the better the deal for them, and the more money you earn.
OK … that's it for today.
Tomorrow we'll look at how you can organize your work and create a plan and schedule that will make it easy for you to take on multiple social media clients at the same time.
As always, please jump in below with your comments and questions!

How to Make Money as a Social Media Marketing Expert
Everything you need to know to become a social media marketing expert, as well as four different ways to make money using that expertise. Learn More »

Published: October 6, 2015