Everyone Needs a Little Push Now and Then to Get Their Career Started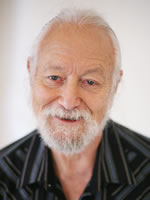 Will Newman
Will Newman here again today and the rest of this week. I've been introducing you to AWAI members I've stayed in touch with over the years. In fact, I had the opportunity to catch up with many of them at this year's Bootcamp. I asked each person to share ONE thing … one lesson that could help another reader see why writing is a life-changing career.
Today I'm going to introduce to Jim Panter. First, though, I want to share with you an idea from article written by AWAI staffer and master marketer Sandy Franks that was published here in The Writer's Life. She said writers are not born; they're made. I totally agree with this. That said, I'm convinced the next of my Circle of Success friends we're going to visit must've been born with a "love of writing gene."
This inborn love of writing might seem a bit unusual given Jim Panter's background. I'll let Jim tell you what he told me about himself earlier today.
I spent 23 years in the U.S. Air Force – nine as an enlisted man, the remainder flying C-130s. After that, I worked 17 years for FedEx as an instructor and pilot.

Even when I was flying, writing has been something I've nibbled all my life. I even have an MFA in creative writing. I once took a class from the Famous Writers Course in how to write fiction. Then I got married and writing fiction took a back seat to married life.

Then I got The Accelerated Program sometime in 2005 or 2006. Like a lot of the COS-ers I've met here at Bootcamp, I put it aside.

Then late last year I got an AWAI letter about Circle of Success. It all sounded good. Like getting all the AWAI programs for free. Or the special Targeted Learning Program instruction with live teachers.

But what attracted me most was Bootcamp … being able to get it free for a couple of times and then for a discount later.

Something told me Bootcamp would give me the push I needed to get me writing for real.

And I need that push right now because of how my family situation's changed. You see, my daughter died recently, and I inherited her three children. So now I'm Mr. Mom to my lovely 10-, 9-, and 2-year old grandchildren.

I'm very glad I did come to Bootcamp this year. I'm learning a lot of new ideas for copywriting. But I'm also getting a lot of confidence … and a huge amount of support.

The amount of support really surprised me about Bootcamp. I didn't expect the family atmosphere we have here. How everybody is so friendly and accommodating. The AWAI folks. Other AWAI members … specially my fellow COS-ers. Even the presenters, the big name copywriters earning the big bucks.

Bootcamp and COS have given me the same confidence I had back when I was flying planes. I know I can really do this. Next year, I'm going to submit the Bootcamp spec that won Les the $10,000 Bootcamp challenge. [Les Worley was sitting across the table from Jim.]

I'm not only going to submit it—I'm going to win it!
I have two other things to pass on from Jim. First, he says, "copywriting is just as much fun as writing fiction. Except … it pays a heck of a lot more."
Then Jim went on to tell me one of his dreams is to help fund an organization to help abused, abandoned, or pregnant teen girls. Given his determination and spirit, I'm willing to bet he'll do it.
What dreams do you have that copywriting will help bring to life? We'd love to hear about them. Tell us in the comment section.
Tomorrow we get together for the last time when you get to meet another of my Circle of Success friends, Penny Hunt. Penny is going to tell you about her 3-G's for success.
Until then, keep writing!

The Professional Writers' Alliance
At last, a professional organization that caters to the needs of direct-response industry writers. Find out how membership can change the course of your career. Learn More »

Published: October 29, 2015