Five Smart Ways to Remove All Fears of Failure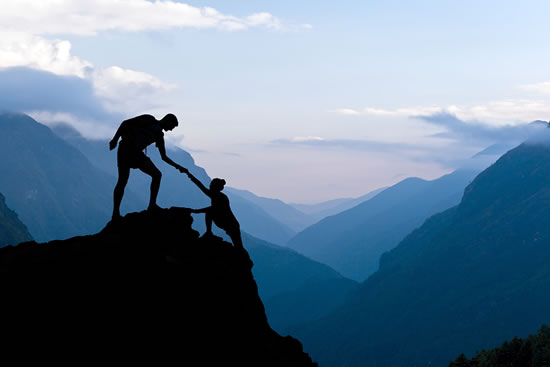 As humans, we're prone to self-doubt and allow ourselves to have self-limiting thoughts.
You do it. I do it.
Not all the time. But, it does happen.
For example, you decide you want to become a freelance web writer, and then you think, "I can't do that. I don't know how to land clients." Or "That's a nice thought, but I'll never actually get it done."
Or maybe you've become a freelance writer, but every time you land a project, you're plagued with fear. "What if I get this wrong?" "What if the client isn't happy?" What if … What if … What if …
So you play it safe. You do good work, but not exceptional. You don't fight for your big ideas, if you even voice them at all. And you don't approach the big-time clients you'd like to write for.
That's the power of self-limiting thoughts.
Sometimes, you don't even really hear them. They're just there, chipping away at your self-confidence and making most of the things you decide to do harder than they need to be.
Most of us manage to move forward despite these thoughts. But they slow us down. They keep us from reaching our full potential. They make us trim our big dreams down to a reasonable size.
Fortunately, there's a better way. You can train yourself to switch your mindset to empowering thoughts instead.
Stay with me. This isn't just warm, fuzzy stuff. Science actually backs this up. When you think those negative thoughts, it narrows your field of view. You literally can't perceive the opportunities and possibilities beyond your initial reaction to that thought.
When you replace your negative thoughts with positive ones, you open your field of view. You take in the possibilities and give yourself a chance to consider them.
When that happens, you discover opportunities you didn't notice before. Shifting to an empowered mindset can get you to try things without fear and help you find a path to your very biggest dream. No limits needed.
Powerful stuff, right? But it's really pretty simple.
I'll bet you could come up with a ton of ideas for empowering thoughts. And to get you started, here are five of my favorites …
"Let's See if I Can …"
"Let's see if I can land a new client at Bootcamp."
"Let's see if I can get a 10% response rate on my next marketing campaign."
"Let's see if I can double the traffic to my site in three months."
"Let's see if I can get a guest post published on Copyblogger."
You get the idea. The beauty of "Let's see if I can …" is that it removes all the fear of failure. The phrasing implies you're experimenting. And the wonderful thing about experiments is they are always useful because they are about discovery. The point of an experiment is to try something, see how it works, and learn from the process so you can get closer to what you're trying to accomplish the next time around.
As soon as you think in terms of "Let's see if I can …" your mind starts looking for possible solutions. Your self-limiting thoughts stay out of the way because you're just experimenting.
"What Can I Contribute?"
It's easy, especially when you're starting out, to think in terms of what you can get, what you can earn, what you can make. Nothing wrong with that. But it does open you to those limiting thoughts. I've talked to many writers who follow up those thoughts with "Am I really worth that much?" or "Will they balk if I quote that price?"
Instead, start by thinking, "What can I contribute?" Be patient with yourself. Sometimes it takes a little time to really envision what you can bring to a project.
But when you do, you'll be much clearer on your value. And that will help you move forward with confidence. And confidence is often the key component to doing your best work.
"How Can I Help This Person?"
The sad truth is, most of us are harder on ourselves than anyone else. So, one way to shift into an empowered mindset, is to take your focus off yourself and put it onto someone else. I've found the best way to do that is to think in terms of helping people.
Whether you're on social media, approaching a prospect about a project, talking to your mom on the phone, or waiting in line at the grocery store, the opportunity to help people is almost always present.
You can answer questions on social media or point people to resources that will help them do what they want to do.
You can offer some free, helpful, custom advice to your prospect about some easy changes they might make to get better results.
You can ask your mom if there's anything she needs help with over the weekend, like mowing the lawn or cleaning the gutters.
You can give the cashier at the grocery store a smile and a genuine compliment.
At least two powerful things happen when you make this mindset shift. First, you gain goodwill. The people you help learn to know, like, and trust you — which means if they ever need your services, you'll be someone they consider hiring.
And, second, you gain self-confidence. You see firsthand your ability to make a meaningful difference in someone else's life, even if it's in a small way. It's that kind of thinking and attitude that will make you such an attractive freelancer to work with.
"What's the Opportunity?"
I love this one whenever I find myself facing an uncomfortable or frustrating situation. Rather than lamenting my difficulties, if I just remember to ask, "What's the opportunity?" it changes the whole landscape of what I'm dealing with.
Instead of being stuck feeling frustrated and uncomfortable, I begin thinking in terms of how I could turn the situation on its head and make it into something good. Often, I'll come up with an idea for a new article, a new e-book, or even a completely new business when I take this approach.
I obviously don't launch every business idea I come up with, but this turns obstacles and setbacks into an exciting and creative experience.
"What Can This Intersect With?"
The time when self-limiting thoughts are most likely to creep in is during those moments when you're not sure how to move forward.
It may be that you can't find the perfect headline for the project you're working on … or that you don't know how to approach the company you'd really like to turn into a client … or that you have the seed of a wonderful business idea but aren't sure the next steps to making it grow.
Instead of focusing on what you don't know how to do, try thinking of what you might add to your mix.
Whether you're thinking of people, ideas, or industries, sometimes all it takes to find a way forward is to connect two new things in an unexpected way.
Here's what I mean …
Let's say you're struggling to come up with a tagline for your web-writing business. Let's also say that you worked as a Girl Scout Leader for a half-dozen years. These two things are completely unrelated. But can they intersect to give your tagline some meaning and personality? Maybe they can. The tagline of Girl Scouts is "Where Girls Grow Strong." So you play with that and come up with "Where Words Grow Strong" or "Strong Words, Strong Sales." Both have potential. The real point is, your brain is moving forward again, and you're no longer stuck in self-doubt mode. You've transitioned into exploratory thinking and that's where exciting things happen.
Self-doubt is something nearly everyone experiences. When you catch yourself talking yourself down, try one of these mindset shifts to get back on the path to experimenting, exploring, discovering, and creating … that's where you'll do your best work.
This article, Five Smart Ways to Remove All Fears of Failure, was originally published by Wealthy Web Writer.

The Professional Writers' Alliance
At last, a professional organization that caters to the needs of direct-response industry writers. Find out how membership can change the course of your career. Learn More »

Published: October 21, 2015