How to Expand Your Client Base Beyond Social Media Writing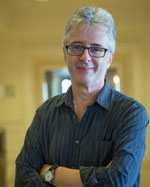 Nick Usborne
Wow … this week is going fast; we're at article number four already!
In case you missed them, be sure to read the first three articles in the series before diving into this one. You can find articles 1, 2, and 3 here.
When you have one, two or even three social media clients and are pulling in a hefty monthly fee from each of them, it not only feels good to have those clients, but it feels REALLY good to know that they'll each be paying you a monthly retainer for the foreseeable future!
No more worries about next month's bills. No more cash flow headaches when a client is slow to pay. (With a retainer arrangement you always know when that money is going to hit your bank account.)
So what's next? Where do you go from here?
Well, you can just keep adding more social media clients. Remember, you'll be automating a lot of this work, so you can take on more clients than you might think right now.
But what if you want to do more than writing for social media? What if you want to expand your service to include sales copywriting, content writing, email copywriting, and so on?
Well, you're in a perfect position to make that transition with your social media clients …
No cold calling because you already have a solid relationship with that client.
No sales pitch, because your client already knows you do great work.
No trust issues, because the client already likes working with you.
In other words, it's a slam dunk.
And it's really easy to get the ball rolling. Imagine opening with any one or more of the following conversation-starters.
"Hey, working on your social media has brought me into really close contact with your content marketing team. I'd love to do some of that content writing for you. And knowing what I do about social media, I have some fresh ideas on how to make your content a lot more shareable!"

"Remember those Facebook ads you had me post last month? I hope you got the reports I sent you on that campaign. And … I would love to be involved in the writing of those ads next time around. I have some ideas that I think could seriously boost our results."

"As you know, working with social media really keeps one focused on what's new and what's happening today, or right now. It occurs to me some of that immediacy could work really well with your email marketing. If I wrote you a couple of sample emails to show you what I mean, would you take a look at them?"
See what I mean? There are a lot of totally natural ways for you to use your involvement in a company's social media to "cross the aisle" into other areas of marketing.
You don't have to do this. But if you do, it would deepen your relationship with the client, add to your income a lot, and probably make you a better social media marketer at the same time.
Best of all, it's easy.
And easy is good, because as any freelancer will tell you, one of the hardest things in a freelancer's life is developing a steady flow of new and exciting projects.
OK, that's it for today. I hope you are enjoying this series as much as I'm enjoying writing it!
Tomorrow we'll wrap things up and get you started on a 30-day plan. Yep, we're going to get you one or more clients in 30 days or less!
Until then, add your thoughts and comments below.

How to Make Money as a Social Media Marketing Expert
Everything you need to know to become a social media marketing expert, as well as four different ways to make money using that expertise. Learn More »

Published: October 8, 2015