Social Media Writing Lets You Rapidly Build Your Monthly Income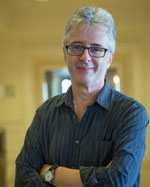 Nick Usborne
This is the last in this series of five articles. Before I dive in, I want to make sure you've had the chance to read the four other articles from this week. If not, here they are – 1, 2, 3, and 4.
Today is my last article in this series. But before I leave you … I want to take a last look at the key points I have been sharing with you this week.
First, getting multiple retainer deals with your clients is the Holy Grail for freelancers.
Retainer deals take 99% of the stress out of freelancing. You KNOW how much money will be flowing into your bank account next month, the month after, and so on.
Second, retainer deals are pretty much automatic when you're doing social media.
This is because social media writing is an ongoing, open-ended gig. Your clients HAVE to stay active on social media every day, every week, every month and every year.
Third, writing for social media is pretty easy. It's fun too.
If you're active on social media in your personal life, you already know the drill. You know what to do. It's not much of a leap to start doing the same thing for clients who will pay you!
Compared to other online writing and copywriting disciplines, the learning curve to get up to speed with social media writing is very short and not very steep.
Fourth, getting you first social media client isn't hard.
If you follow the 4-step plan I shared in the second article in this series, you WILL pick up your first client within 30 days.
There are hundreds of thousands of companies out there doing social media badly. And they know it. They're just waiting for someone to reach out to help them do a better job.
Fifth, social media writing is the perfect gateway gig to getting other copywriting work with a client.
First, you handle their social media. THEN you can talk to them about giving you other kinds of writing and copywriting projects. (See article number four.)
If I were starting out today, or wanted to give my existing freelance business a major boost, I would jump on social media writing. No question about it.
There is one more thing I would like to share with you …
When you read through the five points above, you might shrug your shoulders and just think, "Hmm, that's sounds OK. Could be interesting."
Well, I've been a freelance copywriter for almost 35 years now, and when I look through those five points, my reaction is more like, "Holy Cow! That's absolutely incredible!"
If you have met me, or know me through my writing, you know I'm not a "Holy Cow!" kind of guy. I'm pretty mellow.
I react that way because the history of my own career as an online writer has NOT been one where I can say …
"Yep, I get a retainer deal every time."

"Yep, it was easy to get my first client. Did it in 30 days. No sweat."

"Nope, learning this stuff wasn't a big challenge."

"Sweet. My last gig led to a whole bunch of other writing projects from that client."
In other words, the history of my freelance career has not been a story of everything being "easy". Ask any other freelancer with a few decades of experience and they'll tell you the same. (If they're being honest!)
That's why I'm so enthusiastic about social media writing.
It's a fast and easy way to get your first few clients and build a solid freelance business.
And – I know, I can't stop talking about this – you get what most freelancers can only dream of … retainer deals every single time!
OK, that's it for the series. I hope you found these articles interesting, useful and inspirational.
And if you do launch a social media business, please keep in touch and let me know how it goes.
Any final comments or questions? Just add them below.
One last thing … we're running a very special promotion on this program, and it ends at midnight TONIGHT. Get How to Make Money as a Social Media Marketing Expert today and you'll save over $300 off the regular price. Quite the deal!
Go here to access this special promotion.

How to Make Money as a Social Media Marketing Expert
Everything you need to know to become a social media marketing expert, as well as four different ways to make money using that expertise. Learn More »

Published: October 9, 2015