Wealthy Web Writer to Select Two New Reality Bloggers
The Reality Blog has become a tradition on Wealthy Web Writer …
Wealthy Web Writer's Reality Bloggers are individuals with big goals and aspirations for their web-writing business. Each of our Reality Bloggers has made their goals public to the Wealthy Web Writer community and then made a commitment to share their progress, the insights they learn along the way, the strategies that work for them, the obstacles that come up and how they overcome them, and the resources they discover that help them succeed.
It's an incredible opportunity … the bloggers get to be held publicly accountable, as well as acquire a ton of writing experience, and the Wealthy Web Writer community gets to learn right alongside them as they navigate the business side of being a well-paid freelance writer.
I'm happy to announce it's time for two new Reality Bloggers to take center stage and to carry this mantel forward into 2016.
How will we choose these two future rock stars? With our new Wealthy Web Writer Reality Blog Challenge …
In Round One, all the hopeful participants will submit a blog post to the Wealthy Web Writer team for review.
From the pool of entries, the five most promising will be selected to move on to Round Two. In that round, each of the finalists will submit four posts for publication on Wealthy Web Writer. (They'll receive a sum of $500 for their efforts.) The Wealthy Web Writer community and the team will vote on these posts to select the Reality Bloggers for 2016 — a year-long contract.
Participants must be Wealthy Web Writer members and they must declare their intent to participate in the comments of the announcement post.
Interested in throwing your hat into the ring? Go here, read through the comments already posted, and then make your own declaration!
Becoming a Reality Blogger opens doors you'd never imagine, and can put you on the fast track to success. This is a life-changing, career-transforming opportunity. Give it a shot!
Work with the AWAI Team on a Real Writing Project!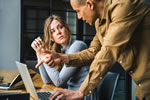 "Simulated Training" is AWAI's newest interactive learning where you get to work directly with AWAI's copy chief on a real writing project.
Not only will you experience what it's like to write for a real client — you'll learn what to do at every stage of the writing process … plus you'll get live personal feedback on your writing.
And right now, we're offering a limited number of spots FREE to members of our highest level of learning.
Go here now for full details …
Published: October 9, 2015