Use This 7-Point Checklist to Get Clients to Say, "Yes"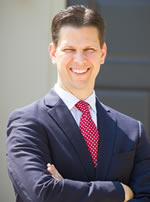 Joshua Boswell
There is one thing that makes clients whip out a checkbook faster than anything else.
A simple story will illustrate …
A couple of years ago, I was making my way through the crowds at Job Fair (the premier client-getting event of AWAI's annual Bootcamp … a "must attend" experience!).
There were several hundred writers milling about the room. As I walked by a desk, the company name caught my attention. At the time, my dance card was full and I had more work than I could reasonably handle … so I wasn't really looking to land a project.
But, the company was in the health and wellness space, which had been on my mind. Their products looked interesting, so I stopped.
After waiting in line a few minutes, I got my chance to talk to the rep. I asked a few specific questions. Finally, she asked me, "What kind of writing have you done?"
I was tempted to start the brag-beg-fest trap that so many new writers succumb to and tell her all about myself, but I resisted.
Instead, I said,
"That's a great question. Rather than take your time now, give me your email and I'll send you a document that will answer all your questions."
I got her email and moved on.
Later that night, I sent an email like this,
"Hi Susan,

It was great meeting you today.

I'm the guy that refused to tell you about my writing and promised to send you some info.

As promised, here is the document I mentioned. It will tell you all about me, my writing, what others think, and let you see a few samples of my writing.

After you're done, you'll likely want to visit with me … but don't worry about calling me. I know you're really busy.

Instead, I'll touch base with you on Monday when we're all home from Bootcamp.

Have a safe trip home.

Joshua"
I attached my complete Information and hit send with a sense of great satisfaction.
By hitting send, I knew I could only win at this point.
I had tested and proved this Information Packet hundreds of times. I knew that one of three things would happen …
One – she would get it, open it, love it, and hire me.
Two – she would get it, open it, love it not so much, and not hire me.
Three – she wouldn't open it.
If she didn't hire me after reviewing my info packet, then I just saved myself a ton of time and heartache. Why? Because it shows she's not a good fit for me.
If she didn't open my info packet, it would allow me to invoke the persuasion laws of reciprocity and guilt. (I don't have time or space to explain that clever little trick … but it works like gangbusters for getting clients!)
Either way, I win.
I love being in a win-win-win situation, don't you? Feels great!
Consider this …
Why does my Information Packet create this kind of winning set-up?
The answer is this …
All people that hire writers want more fame or fortune. But, to get that, they know they need to hire a professional writer that will deliver.
They have a 7-point checklist in their heads that tells them if you're a pro … or not … and if you're a good fit for their needs.
Once I figured out the checklist, I discovered I could win every time I had contact with a decision maker.
I designed my Information Packet to check off their 7-point checklist. Here's the outline of my Info Packet so you can win every time as well …
The 7 Critical Elements of My Information Packet
1 – The Introduction Letter
This is your sales letter. Here you make all your bold promises and layout your big ideas. It's also your first chance to wow them with your writing skills. It's one of the best writing samples you'll ever do!
2 – What Others Say
Testimonials, character references, and other nice things people say about you. This invokes the law of Social Proof.
3 – Clients and Experience
Show them what you're made of by letting them see what you've done with your business life. This can include clients, jobs, projects, volunteer gigs, and just about anything else you've done.
4 – About Me
This is NOT a typical bio. This is a well-crafted story that lets you be vulnerable, real, sincere, and open. Here you emotionally connect with them and let them see your unique personality.
5 – Services and Estimated Fees
Tell them what kind of writing you do and give them an idea about how much they can expect to invest to use your awesomeness.
6 – How I Write
Every doctor, dentist, and lawyer has a system for handling clients … do you? You should! That's what makes a professional a pro! You can get the details on that system here.
7 – Writing Samples
A word to the wise, but beginning writer … this section does NOT need to be examples of past projects you've done. It can simply be writing samples. Just sit down and write a few samples and include them here.
That's it!
Seven simple things in one really power document. If you have all of these elements in your Information Packet, you'll find yourself in a constant win-win-win situation.
If you don't have a well-organized Information Packet, you'll be at a serious disadvantage.
Why?
Because, before a client will cut you a check, they need to see these seven things to make sure you're a professional and a good fit for their project.
It's that simple.
Now, before you really start rolling in the dough, you need two more things.
As a reminder, here are my five steps:
Play to Your Strengths
The Closer to the Itch, the More You'll Get Scratched
The Mysterious Checklist Inside the Marketer's Mind
Questions are the Answer
The Disney Model for Wealth and Happiness
Tomorrow, we'll cover #4 and #5 …

The Professional Writers' Alliance
At last, a professional organization that caters to the needs of direct-response industry writers. Find out how membership can change the course of your career. Learn More »

Published: November 26, 2015