Are Your Words Meshing With Your Client?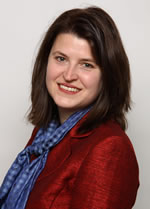 Andrea MacDonald
As writers, we are forever practicing our craft and honing our skills.
Hearken back to those days of early learning, though, and it's amazing how much more we can do.
For example, communicating clearly may seem like a no-brainer to folks like us. Compose your message, send it to your audience, and the meaning is received exactly as you intended.
Like telephone inventor Alexander Graham Bell and that famous call to his assistant Mr. Watson.
But instead of a clear reception, we're met with a lot of static. Or confusion.
Here's an example:
I was driving in downtown traffic recently when I spotted a huge billboard. In big bold letters, the slogan read: "Nothing's better with peanut butter."
Wow, I thought. That's odd. Peanut butter doesn't improve the taste of any food at all? Not even a jelly or jam sandwich? After all, a PB&J sandwich is a classic in most places.
Many miles later, it dawned on me. They weren't dissing PB; they were saying nothing is better with peanut butter than their product—milk, which was shown in the image but wasn't actually mentioned in the copy.
It may have made more sense in a magazine ad or online, when there's more time to make the connection. When you only have a few seconds to grab your reader, however, the message must be unmistakable.
Now I'm sure this client probably spent thousands of dollars on its ad campaign. Maybe even set up a focus group.
Yet it unintentionally confused the audience. Somehow I doubt I was the only one who stumbled over those words in the rush of the morning commute.
It's kind of like that famous saying, "no news is good news." We know it doesn't mean that all news is bad news, but did we really understand that the first time we heard it?
When we cross over into another field or platform, it's even easier to miscommunicate our intentions.
Like I did.
While speaking with a new client recently, I mentioned twice that I was willing to do research for the blog posts I would write for her. Both times she nixed the idea.
Then I clued in.
When I'd brought up the subject a second time, I could almost see the dollar signs popping up in her eyes. For her, research meant too much time spent on one small project. That meant more money out of her pocket.
Talk about a misfire!
To me, my plan to do research conveyed an eagerness to learn more about my client's needs so I could deliver the best possible product. To the client, my words meant something else indeed. It was an important lesson and one I won't soon forget.
See how important is to be crystal clear in your communications? Not to mention tailoring your talk to your audience.
You'll save yourself a lot of grief by researching your prospect and platform before you dive in.
AWAI has tons of resources on how to do that, but, speaking as a former journalist, my top tip is to interview people in the industry.
It's kind of like the informational interview you hear so much about in HR circles. You're not looking for a job; you're looking for useful material.
Harness the power of social media to find someone you know (maybe even a friend of a Facebook friend!) in the field you're after and interview them. Not for an hour … even five minutes will do.
If the word "interview" is too daunting, just ask this person a few questions about their top priorities. When you can start speaking the same language, you're well on your way.
While you're at it, read up on the lingo and view online discussion groups. You'll save yourself some big missteps.
Stick with me this week and you'll be more productive by following the steps outlined in each article.
Action step: Read a slogan or headline and figure out at least two different ways the words can be interpreted. Please share your comments below.
Tomorrow we'll tackle math, using numbers to quantify our output as writers.

The Professional Writers' Alliance
At last, a professional organization that caters to the needs of direct-response industry writers. Find out how membership can change the course of your career. Learn More »

Published: November 16, 2015