Why the Best Way to Generate a Steady Stream of Income is Having ONE Client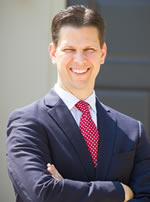 Joshua Boswell
In the next five days, I'm going to show you the secrets behind turning a $500 project into a $50,000 client.
How is this possible? It's all about leverage.
Think of it like this …
The Greek god Atlas is depicted as carrying the weight of the world on his shoulders. That is certainly one way to move a heavy load … shoulder the whole thing yourself.
If you're strong, it might be OK for a time. But before long, you're sure to wear out and be crushed by the weight of it all.
By contrast think of Archimedes.
He said, "Give me a lever long enough and a solid place to stand and I'll move the world."
No superhuman strength needed … just the right kind of leverage.
New writers often look at copywriting with great hopes … and fears.
Is my writing good enough?

How will I find clients?

Can I make enough to really live "the writer's life"?
It feels like a mountain load of new things to learn and questions to answer.
For me when I first started out, I felt like the weight of the world was on my shoulders.
Can you relate?
But, in reality, once you understand the leverage points of this business, like Archimedes, you can do great things with relatively little effort.
In other words, you don't have to toil and sweat and strain and stress 50, 60, 70 hours a week to make a nice six-figure income as a writer … at least not if you know the secrets of the business.
I've discovered that there are three areas – yes, just three – that you need to get good at to become an extremely successful writer.
These three areas are:
Writing Skills – This is the core skill. You don't need to be an "A" level writer, but you do need to be able to clearly communicate and understand persuasion.
Marketing Skills – You need to understand how to attract clients and inspire them to pay you really well for your writing skills.
Attitude Skills – You've got have the right mindset and know how to manage your time.
Each of these areas has a set of high-leverage points … secrets that will help you see huge results for minimal effort.
Just to be clear … I'm not talking about not putting in any effort. Just minimal effort … especially when compared to eking out a living in a cubicle, working 40-60 hours a week at a job you're not passionate about.
Over the next few days, I'm going to give you five of the high-leverage secrets from the Marketing Skills department.
These five secrets have repeatedly been proven, by hundreds of writers over the years, to attract decent paying projects … and then turn them into great-paying, long-term clients.
If that's of interest to you, then join me tomorrow for the first secret … I think you'll be surprised … especially since you already have it and have used it many times … but probably didn't know it.

The Professional Writers' Alliance
At last, a professional organization that caters to the needs of direct-response industry writers. Find out how membership can change the course of your career. Learn More »

Published: November 23, 2015