Discover A Lucrative, In-Demand Writing Opportunity Hidden In Plain Sight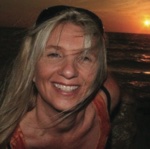 Cindy Cyr
Hi, I'm Cindy Cyr, a marketing consultant but also a copywriter trained by AWAI. This week I'll be sharing with you what I consider the best writing opportunity …
I'm going to bring you into a secret world that has a hungry, unlimited demand for fresh copy and content. It's a world that is all around you, but if you are like most people, you're unaware of it or may not even comprehend what you're seeing.
In fact, millions of dollars are being made in this industry right before your eyes.
Here's the thing. Once you embrace this writing opportunity you'll have three proven ways (which I will lay out for you this week) to use it to create more money and a better lifestyle for yourself.
So what is this hidden opportunity? It's the secret world of information marketing.
And while info-marketing businesses vary in types and size, they all have one thing in common: The actual products they sell and the marketing they use to sell them all must be written by someone … so why not that someone be you?
I'm sure you've read books, subscribed to newsletters, or taken courses on subjects that interested you or taught you how to do something. Perhaps you've bought a product because of an infomercial you saw such as Beachbody fitness products or a George Foreman Grill. Or you've enlisted the help of a coach or consultant.
Well, all of these fall under what's known as the information marketing umbrella, which even extends to publishing.
The information marketing world is wide and varied. It's a $60+ billion dollar industry and includes professional niche info-marketers such as dentists, doctors, lawyers, and realtors.
There are hobbyist and personal interest info-marketers that create info-products on topics such as knitting, music, and baseball.
There are business info-marketers that have developed info-products around their restaurant, magic business, and jewelry store.
How do you tap into it? I'll explain how in this week's Writer's Life series, but first let's look at some of the reasons it's a great opportunity.
Info-marketing Opportunity #1: Info-marketers, by the nature of their product and how they sell it, use a lot of copy.
As mentioned, both the products and the marketing have to be written. This means you have two different opportunities within this industry to earn writing income.
1) You could write the course, book, e-book, and so on.

2) You could write the marketing materials to sell the info-products.
To give you some perspective, it's not unusual for me to write 10-20+ pieces of copy per month for an info-marketing client.
Info-marketing Opportunity #2: You don't need a lot of clients to make a good income.
Info-marketing clients understand two important principles:
Their business is based on written information.
Having your own information product positions you as the expert, which can lead to more sales and being able to charge higher fees.
In fact, it's been my experience that this combination helps them understand the value of a copywriter; therefore they tend to pay well.
Plus, as I mentioned, they need a lot of copy—often on a weekly basis— which they often don't have the desire or time to write themselves.
These two factors combined make it possible to make tens of thousands of dollars a year from just ONE client.
One of the easiest ways to "break" into the world of info-marketing is to make a list of info-marketing companies that promote products that interest you. I suggest your list include at least five companies. Sign up to their mailing list so you can get familiar with their products, offers, and marketing materials.
Tomorrow we'll explore what you need to know to write for the info-marketing industry. In the meantime, let me know your thoughts, comments, and questions about writing for this industry below. I'll be sure to answer your questions.

Dan Kennedy's Writing for Info-Marketers Training and Certification Program
Copywriting-great Dan Kennedy is ready to take you under his wing, to show you where to find the best clients and to train you to write results-getting copy that will keep those clients coming back. Learn More »

Published: November 2, 2015