The Secret Psychology of Becoming a Great Copywriter

Even after 10 Bootcamps, I always come away with tons of great information, ideas, and new copywriting strategies. This year was no exception. Every one of the sessions I went to was illuminating and inspiring.
But one session by Mike Palmer in particular stands out. It's so relevant to your career – and to mine – I have to share it with you.
Mike is an outstanding copywriter who helped Stansberry Research grow into the biggest financial newsletter publisher in the world today. So far, his promotions have brought in over 400,000 paid subscribers.
But Mike's not only Stansberry's head copywriter, he also trains all their writers. He used his Bootcamp session to share a lesson he gives those writers at the beginning of their training. He called his presentation …
The Secret Psychology of Becoming a Great Copywriter: Understanding this all-important cycle will give you an enormous edge over 99% of the copywriters out there.
The main point in Mike's presentation is that all copywriters go through a predictable cycle of emotions, knowledge, and self-belief. All of them … including him.
Mid-way through the presentation, I recognized I'd gone through this cycle as well. And I've seen it at play with virtually every copywriter I've known in Circle of Success and AWAI.
So, let's look at the four stages of this cycle and see how they fit your own experiences.
Stage 1: Uninformed Optimism …
When I started copywriting, I was excited, enthusiastic, and raring to make my mark in the copywriting world. Of course, I was nervous. But I had a supportive wife and a clear vision of where I was going to be.
Emotionally, I knew I could do this. I immersed myself in what little materials were available at that time. I even apprenticed myself to a well-known copywriter.
But I really had no real sense of what lay ahead. I was uninformed in my optimistic attitude. Mike showed this stage graphically with this diagram:

All beginning copywriters start at this stage. They don't know much … but their enthusiasm pushes them forward.
Does this sound familiar? Could this be how you felt when you made the decision to be a copywriter?
I rode that swell of optimism for a while. Then I hit the top of the peak. Things weren't going as quickly as I'd hoped. I'd hit …
Stage 2: Informed Pessimism …
I can't tell you precisely how long it took before I started to get a more realistic sense of how my copywriting career was going. (Too long ago to remember, for sure.) But it was probably about a year in.
By that time, I'd had a couple of assignments, but nothing substantial and nothing hugely profitable lined up in the near future. I'd entered Mike's second stage: Informed Pessimism.
I had a clearer view of what my career was really like at that moment. It's one that didn't thrill me at all. I fit on the downside of Mike's diagram: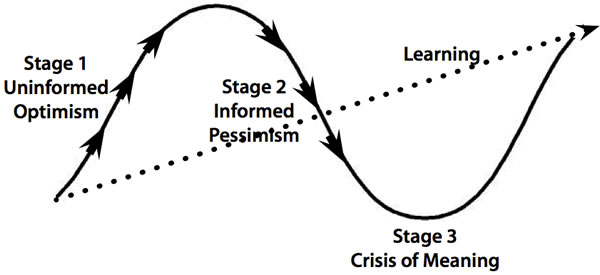 I wasn't ready to give up … yet. By this time, I'd retired from teaching and moved to rural northern California. I had a somewhat schizophrenic view of copywriting and me. Half the time I'd be optimistic that things would pick up. Half the time, I was sure they wouldn't.
But, as you see in Mike's diagram, something was going on during this stage. Probably thanks to the residual but fading optimism, I kept studying. And luckily, AWAI's Accelerated Program came on the scene at this time. It was the first of its kind … the only program devoted to teaching people how to be copywriters. That was enough to keep me going until reality and bills pushed me to …
Stage 3: Crisis of Meaning …
Becoming the Executive Director of my town's chamber of commerce marked my "Crisis of Meaning" stage. Look at Mike's diagram above. I was at the low point in my enthusiasm and, I dare say, commitment.
I was willing to give up my dream of being a full-time copywriter. After all, although the ED position didn't pay a lot, it did pay as much as copywriting.
Well, I was almost willing to give up my dream. But, The Accelerated Program and my wife were career savers. I enjoyed the work as the ED, but I'm the type of person who, once I start something, I nag myself to complete it. So, I kept studying. And true to her loving nature, Linda kept encouraging my writing.
Because I stuck with The Accelerated Program and continued writing, that dotted learning line in the diagram kept climbing. My skills improved. My copywriting improved. My assignments increased. I'd reached …
Stage 4: Informed Optimism …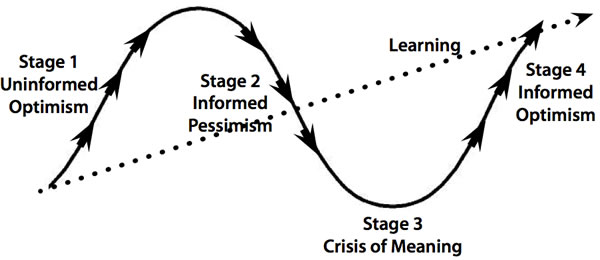 The crucial point of Mike's presentation is this: Every copywriter he's worked with at Stansberry goes through this cycle. I went through this cycle. And, there's a good chance you have or at some point will.
The cycle reaches its lowest point at Stage 3. But here's the thing: during this entire process, you're learning and gaining skills. Persistence at this stage moves you into the upward swing of Stage 4, Informed Optimism.
At this stage, you know what you're doing. You're back to feeling confident and good about what you're doing. Your increased copywriting and self-marketing skills feed your success, pushing you higher.
Mike said – and I totally agree with him – that the strategy for moving through Stage 3 and into Stage 4 is to find support. Find a group that will encourage you through this bottom point and into the upward swing.
If you're in Circle of Success, that support can be your "Circle." If you're not in COS, go to the AWAI forum and reach out. Tell your fellow copywriters you need a boost. And in payment, you'll give one back.
Where are you on Mike Palmer's cycle of copywriting success? Are you at the very beginning, like I was almost 20 years ago? Or, have you made it through to Stage 4?
Regardless of where you are, never stop at the low point. And never try to push through alone. You have friends where you never knew they existed.
I'd love to hear your thoughts on Mike Palmer's cycle of success. Tell the readers of The Golden Thread here in the comment section below.

The Professional Writers' Alliance
At last, a professional organization that caters to the needs of direct-response industry writers. Find out how membership can change the course of your career. Learn More »

Published: November 9, 2015