2 Self-Promotional Video Formats That Help You Get Hired for Your Writing Services Fast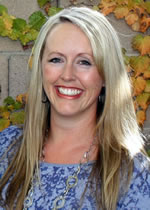 Mindy McHorse
This week is all about the power of video messages and the avalanches of opportunities they can bring writers. And yesterday, we talked about what you might want to include in a video script that introduces you to your clients.
Today, we'll dive into how to convert your message into your very own promotional video.
But first — know that it's easier than you might think. And if you're cringing at the idea of putting together a video that stars no one but you, go ahead and heave a sigh of relief. Because there are two formats that work well for short, informative videos. They are:
A talking head video
A narrated presentation-style video
(There are other types of video out there as well, but we're talking quick-and-easy here.)
I've done both talking-head style and narrated videos, and each has its benefits. A video with you on camera makes you more personable, approachable, relatable, and real. A video narrated by you with a presentation-style format is more direct, easier to follow, and works even if someone's volume is turned off.
Below are the basic requirements for each approach.
To make a talking head video:
Get the right tools. You can make a great video with a basic video recorder — nothing fancy needed. If you have a smartphone that can handle up to five minutes of recording, that'll work fine most of the time. I also recommend investing in a tiny lapel microphone that plugs into your phone.
Set the stage. This is you on camera, so make sure to look your best. (My husband always knows when I'm getting ready to record a video because it's the only time I bother with lipstick.) Also, make sure the background where you plan to record is free from clutter and distractions, like photos and signs. Consider closing a closet door and using that as your background.
Use talking points. While it's smart to write out a script and practice it, you don't want to read from a script while you're on camera — it's too obvious. Instead, post a big sign behind your camera with specific talking points that keep you on track. E.g., "Introduction, background, service list, call-to-action."
Smile. You don't have to grin like a Cheshire cat through the whole thing, but aim for a friendly look. I've seen far too many freelance writers put up videos that make you wonder if they were fathered by drones. Laugh at a funny joke before you start … have a glass of wine … whatever it takes to not appear robotic.
To make a presentation-style video:
Use the right software. You'll need a slide show presentation program, plus a way to record narration. Microsoft PowerPoint has an option to record narration, or you can use an external program like Camtasia.
Break your script into bullet points. Don't put the entire script in your presentation, just the main points you want to make. At the very least, introduce yourself, talk about your writing services and your background, and finish with a call to action.
Talk fast(er). While you don't want to talk so fast that you're not clear, you also don't want to drone along or you might lose the attention of your prospect. A good rule of thumb is to narrate at a slightly faster speed than you would talk — unless you're one of those people constantly told you talk to fast. In that case, slow down!
One last tip: When you put your video on your website, don't set it up to play automatically if someone comes to your website. If they're not ready to listen, you don't want them muting you or clicking away. Instead, use the "play" sign as your call-to-action that invites them to listen.
By the way, if you don't yet have a professional website or don't want your video up there, you can always put it on thumb drives or burn hard DVD copies and send them via snail mail to companies you'd like to freelance for.
Which video format do you prefer for promoting your writing services? Please tell me below.
Tomorrow, I'll be back with more about how to approach clients to land video projects.

The Makepeace Method for Making a Fortune Writing Video Sales Letters
Video is taking the Internet by storm. It's why Video Sales Letters are used so often. They work! And now, Clayton Makepeace reveals his make-your-clients-rich formula for writing Video Sales Letters. Learn More »

Published: November 12, 2015