What to Include When You Write Your Own Client-Attracting Video Sales Script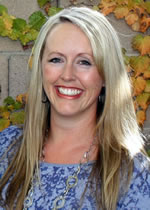 Mindy McHorse
Since we're talking about the power of video messages this week, I want to dive right in and tell you how to make one to promote your own writing services.
Not only is a video message a smart and easy way to introduce yourself to prospective clients, it also showcases what you're capable of as a writer. Plus, prospective clients are more likely to sit through a short video on your website than they are to click around through all your other pages.
Giving them the information they want and need without making them go look for it makes their lives a ton easier (which makes your freelancing life easier when they offer you projects — a total win-win!).
So here's what you want to make sure you include when you write your script:
Greeting. It may sound basic, but far too many videos start off on the wrong foot by launching into a flimsy, salesy pitch—"Are you looking for the copywriter of your dreams?" Instead, go with a strong, simple greeting: "Hello." (It works.) Treat it like a conversation at a networking party. Aren't you more likely to open with a friendly "Hi" than a cheesy business pick-up line?
Your name and as much of your background as you care to share. State your name right off. After all, you want them to get to know and remember you. If you have experience writing or working in a specific industry, put it out there.
Tell them what they'll learn in the video. What's the point of watching the video? People are busy in our distracted world, so tell them what they'll get out of spending a few minutes with you. And on that note, consider telling them it's a short video. "In the next two minutes, I want to share my background in writing online marketing copy, along with explaining how this could double your conversion efforts when it comes to email marketing campaigns."
Now share your message. This is where you tell them what you just told them you were about to tell them. In other words, emphasize your core message here. "Thanks to my training as a professional copywriter, I understand how to take your core message and translate it into features and benefits that resonate with your audience. My goal is to get your prospects to click, opt-in, or buy, and I do this by creating robust messages with words that speak to their fundamental desires."
Repeat the take-home message of the video. (In case you haven't noticed, this follows the "Tell 'em what you're going to tell 'em, then tell 'em, then tell 'em what you told 'em" strategy.) So this is where you repeat your message. "I've just explained how I'm able to boost conversions in online marketing campaigns through a combination of market research and …"
List the solutions, benefits, and services you provide. This is where you trumpet your writing services in a benefit-oriented way. "If you're interested in having someone optimize your website for the search engines so more prospects find you, or write engaging emails so your prospects stay connected and click through to your new offers, those are just some of the copywriting services I provide. I also …"
Offer proof. If you have samples posted on your website or any impressive credentials, share them at this point. If you have yet to land your first paying client, point to your industry experience or spec samples if they're posted on your site. "I've been in the sales industry for 14 years and have watched countless people walk away from a good deal because of poor communication …"
Close with a call to action. This is the single, most important part of your video — ask them to act! If you have a phone number or email address at the top of your website, direct them there. If you have a contact form, direct them there. "To learn more about how I can help you reach your sales goals, please call me at the number listed on the top right hand corner of the screen. Or, click over to the tab called "Contact Me" and fill out the form. I'll respond within 24 hours."
One last tip: Make it short. I recommend staying in the two- or three-minute range, and definitely nothing longer than five minutes.
Now, take a moment to draft your own video message. (And when you're done, tell me below — how did it go? Was it easier than you thought?)
If you don't yet have a website up, no problem. Tomorrow, I'll tell you how to reach possible clients even if your professional website isn't yet posted.

The Makepeace Method for Making a Fortune Writing Video Sales Letters
Video is taking the Internet by storm. It's why Video Sales Letters are used so often. They work! And now, Clayton Makepeace reveals his make-your-clients-rich formula for writing Video Sales Letters. Learn More »

Published: November 11, 2015