10 Ways to Declutter Your Life for the New Year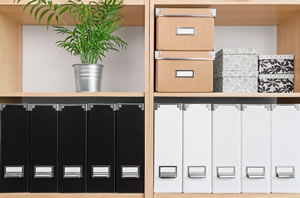 "Don't touch my desk … you'll mess up my system!"
This is a direct quote from my dad. In fact, he had a little sign made that hung above his desk.
When I was growing up, he had a home office in our basement. He had stuff stacked everywhere. There were times when you couldn't see the floor, let alone the top of his desk. It drove my mom nuts … but, it was in the basement, and she could always close the door.
Everyone's tolerance of clutter is different
It didn't bother my dad at all. He knew exactly where everything was and could find whatever piece of paper he needed instantly. He had his own system. It may not work for the rest of us … but, it worked for him.
To my dad, it wasn't clutter. It was information he needed close at hand to do his job. To my mom, it was a mess that should be straightened … but, she didn't dare.
For most of us, clutter is a distraction. I find, when I'm about to begin a project, I need to have a clean desk or I'm constantly wanting to clean everything up … taking my focus off the task at hand. I was the same way in school, when I had a big test coming up. That's when you'd find my room spotless!
In her book, Declutter Your Life: Reduce Stress, Increase Productivity, and Enjoy Your Clutter-Free Life, author Michelle Stewart makes the following statement:
"Whether or not you realize it, clutter has a price in your life. It could be costing you in areas of productivity, finances, emotional well-being and physical health."
Not only does it take away from your productivity, but it can rob you of your time. If you can't find something because it's not put away properly, you waste valuable time looking for it. Ms. Stewart uses the following example to illustrate this point.
If you spend only five minutes a day searching for something, that equates to over 30 hours per year … wasted. To put that in perspective, these 30 hours could have been used to "watch 15 movies, read 3-6 books, take an overnight trip, or earn 30 hours of overtime on your job."
From a writer's perspective these 30 hours could have been used to better market yourself, write several projects earning valuable income, or expand your knowledge of something you've wanted to learn.
The consequences of clutter
Clutter is a big contributor to stress and anxiety, and it can even lead to depression. It's not just physical clutter that causes this, either. In today's digital world, the amount of information you're presented with daily or have stored in your brain can also cause stress. It's just another form of clutter that can be overwhelming if not dealt with. It's also easy to start feeling guilty or anxious, because you haven't read it all or taken action.
How many unread emails do you have sitting in your inbox on your computer? How long have they been there, and do you really think you'll ever read them? How many old emails are still in your opened emails? When was the last time you touched them?
How many Facebook groups do you belong to, and out of those, how many do you actively participate in? Are they actually useful to you? How many hours a week do you spend reading comments and such on social media? Are they even relevant to you?
What can you do about clutter?
Here are 10 suggestions to help get rid of clutter — physical, digital, and mental. These are geared toward the work environment but can be carried over into other parts of your life, as well.
Organize your desk. Have a place for everything and keep everything in its place. Get into the habit of putting things away when you're done with them. If you aren't using something right now, it shouldn't be on top of your desk.
Create a file system. Make a file for each project or each client. Develop a system that works for you … one that you will use. Don't make it too complex, or you won't follow it. Use this system to stay organized.
Touch each piece of paper once. Once you pick it up, deal with it, and then file it or throw it away. Don't set it down in the "do it someday" pile … it will never get done, and, in fact, will probably get lost.
Develop a system for writing. Before you sit down to work on a project, thing about what you'll need. Make sure to have it all within your reach. It will save you time in the long run, because you won't have to take time away from your writing to look for things.
Get rid of documents you no longer need. Be sure to keep the ones you do need, but toss or delete the ones that are no longer necessary. Create an archive file for things you must keep for legal or other such reasons. Keep final products, but eliminate previous drafts and other copies that no longer have value.
Organize your books. Donate the ones you no longer use to your local library, or give them as gifts to friends. Keep the ones you use and that you really will read. (Be honest with yourself.) Place them on a book shelf so they're easily accessible, but not in the way of productivity.
Turn off alerts. While writing, turn off your new email indicator, text message alert, cell phone, and any other device that causes a sound when something new arrives. Give yourself some peaceful time to concentrate on the project requiring your attention at the moment.
Don't multi-task. Focus on one project at a time. Give your mind a break and allow it to zero in on one item for a change.
Unsubscribe to the emails you never read. Narrow down your email subscriptions to those that actually bring you value. All the others are just piling on … so, get rid of them.
Manage your social media. Be thoughtful about who you friend on Facebook, LinkedIn and other social media platforms. Keep your circles limited to people who you value and enjoy. Don't allow others in to use your precious time. You need to stay in control.
Why you should declutter
Going through the decluttering process is a cleansing experience. It will relieve stress associated with feelings of being overwhelmed by information overload. It will give you a sense of freedom from the items you have accumulated over the years that just sit there and haunt you.
So, make a New Year's resolution and start decluttering now. Start the New Year out right with a clean slate … or, at least a clean desk and computer. You'll be surprised and pleased with the sense of relief and freedom that comes with it.
This article, 10 Ways to Declutter Your Life for the New Year, was originally published by Wealthy Web Writer.

The Professional Writers' Alliance
At last, a professional organization that caters to the needs of direct-response industry writers. Find out how membership can change the course of your career. Learn More »

Published: December 23, 2015