How to Choose a Topic for Your Own Money-Making Website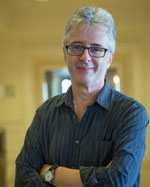 Nick Usborne
This is the third in this series of articles.
The first revealed a way to make money as a writer without having to find or work with clients.
The second explored three different ways to generate passive income by writing a website of your own — like my site about coffee.
And in this article we'll look at how you are going to set about choosing a topic of your own to write about.
Let's get started …
Over the last 10 years I have started several websites just like the one I write about coffee.
And today all of them have fallen by the wayside, except for CoffeeDetective.com.
How come? Because I just wasn't that excited by those other topics. Working on those sites felt less like a fun, no-client way to make money, and more like work.
I have seen the same thing happen with other people who have followed in my footsteps.
The really successful sites are the ones where you can tell the writer is truly passionate about their subject.
It's important to be genuinely excited by your topic, because you're going to be working hard on your website. Like I said in my last article, this isn't a "get rich quick" thing. You have to work hard and create a lot of pages for your site.
If you don't absolutely love your topic, all that writing will feel like hard work. It might even feel like client work.
But if you DO love your topic, it won't feel like work at all. It will feel like fun.
So how do you identify your ideal topic?
One thing I ask people is to take a look at their Facebook page, or their Twitter stream.
What do you like to post or tweet about? What are your natural interests? What do you get really excited or passionate about?
Cooking? Kayaking? Travel? Knitting? Dog training? Interior decorating? Healthy eating? Yoga? Vintage cars? Gaming? Geology? Bird watching? Organic gardening? Single malt whiskies? Gluten-free baking? Hobby farming? Coin collecting? Rock climbing? Horror movies?
The list of potential topics is almost endless.
You can narrow down the possibilities by asking yourself and honestly answering these four questions …
What are your hobbies?
What do you like to do when you have some time to yourself?
What do you talk about with friends?
And, as I said, what do you post about on Facebook?
Once you have identified a topic that excites and inspires you, you have found the subject to write about for your money-making website.
It's strange in a way.
As writers we expect to have to write about what our bosses, clients, or editors tell us to write about. We're used to knuckling down and doing as we're told.
With your own money-making website it isn't like that at all. We're totally free to write what we want. And honestly, that freedom can feel a little weird when you first get started.
But once you get past that initial weirdness, you'll quickly come to love being your own boss when it comes to writing.
Best of all, it's when you really start enjoying your freedom as a writer that you'll do your best work, attract more readers … and start to see that passive income flow into your bank account.
Nice!
Tomorrow I'll be sharing some core success tips. These are the hard-won lessons I have learned with my coffee website over the last 10 years.
In the meantime, be sure to share your thoughts, ideas, and questions below.

How to Write Your Own Money Making Websites
Learn how to write an information website in your spare time and earn $1000, $3000, even $5000 a month in passive income. Learn More »

Published: December 9, 2015