How to Make Good Money Writing – Without Any Clients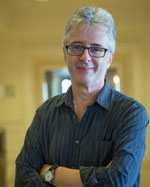 Nick Usborne
This is the first in a series of five articles I'll be sharing with you this week.
Across all five I'll be teaching just one thing – how to make money as a writer without having to find any clients.
Does that sound good? It does to me!
It's not that I don't like working with my clients. For the most part I do.
But I certainly don't like LOOKING for clients. And that's because I don't handle rejection too well!
This is a big part of why my absolute favorite way to make money is by writing for myself, and not for clients.
When I write for myself, I set my own tasks and schedules. I write what I want, when I want.
This is writing without compromise. The only brief you have to follow is your own. The only approval you need is your own.
It's a huge relief to generate an income without clients.
You feel in control.
You just write what you want, and wait for those checks to arrive in the mail.
For me, those checks pay my mortgage, my utilities, and more.
And all with no clients.
Don't get me wrong, I'm still a professional copywriter, and I still do client work. But I'm a lot pickier than I used to be about the clients I work with. I can afford to be picky because my biggest bills are already taken care of by my "no-client" income.
I just wish I had figured all this out a lot sooner than I did.
Actually, I wish this idea had been available to me right at the very beginning of my freelance career, back when I felt the most stress about finding clients and working with them.
But that wouldn't have been possible, because when I started it was way before the arrival of the Web. And without the Web, my no-client approach wasn't possible.
If you know me, or have read some of my writing before, you might already have guessed where this is all leading.
If not, it's time for the big reveal …
My no-client income comes from a website I write called CoffeeDetective.com.
I'm not only the creator of the site, but I'm also the sole owner. I do all the writing. And the best part is, I keep all the money that comes in from the site.
Why coffee? Because I love writing about coffee … I'm a coffee freak!
It's like a hobby for me. I do it for fun. Really.
And that's why this is my absolute favorite way to make money as a writer.
I don't do it for the money, I do it because I love it. But the money keeps rolling in!
I'm not alone. Before this series is finished I'll be introducing you to several other writers who are doing the same as me, with very similar results. Each has chosen a different topic to write about. Each of them are writing on topics they LOVE to write about.
This is no-client, no-compromise writing of the most exciting and rewarding kind.
In tomorrow's article I'll tell you exactly HOW writing about something you love can generate multiple stream of income.
But before you go, be sure to scroll down and leave any thoughts, comments, or questions in the comments box. I read them all and reply to as many as I can!

How to Write Your Own Money-Making Websites
Learn how to write an information website in your spare time and earn $1000, $3000, even $5000 a month in passive income. Learn More »

Published: December 7, 2015