In the Company of Good Friends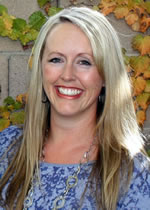 Mindy McHorse
Hi, Mindy McHorse here. Today I want to share with you viewpoints from my husband Craig, who has seen me flourish in my writing career. Craig has seen the ups … the downs … my determination and desire to succeed … and how living the writer's life has been the best decision I could have made.
Ask Craig and he'll tell you there are a lot of funny perks to living with a writer.
For starters, our kids — all six and younger — use bigger words than a lot of kids. Craig says, "It's all cool till you have to explain to another dad why your daughter called his daughter 'pecoo-ly-ar' (peculiar)."
Our kids are too young to know much about punctuation, yet they end their sentences by saying, "Period." Craig freely admits that's thanks to me using the voice-to-text option on my phone all the time.
But there's something deeper to living the writer's life. We get to enjoy a lot of quality family time because we don't both have to rush from standard 9-to-5 jobs getting the kids from school. Any last-minute stuff that comes up, I'm on it.
For Craig and I, it's a huge plus that we can make big decisions based on what's best for our family, not based on how it fits in with work.
That's all cool and dandy. Yet there's something else we benefit from, something I never expected when I first decided I wanted to write for a living. I hoped to be successful, I just never thought about all the other successful writers I would meet in this career, or how they'd affect us.
You see, every year, I get to go to at least two AWAI events. My husband has traveled with me. The people we've met, and the ones that have grown to be friends, aren't like a lot of our friends back home.
For starters, they're happier. They seem driven, but in a positive way. They talk about life goals, travel hopes, and adventures like they're all things that will really happen.
Have you ever met people who are the opposite of that? People who spend their days checking boxes off the calendar, trying to make it to the end of the week, then the end of the month, then the year?
I know too many people like that. That's why I think being around other writers and successful entrepreneurs have a kind of radical effect on your mindset.
If there were one thing I could change, it would be to believe in myself sooner. To take more risks sooner.
I think meeting other writers from this world helped me gain the confidence that others don't understand or know how to give. It's always nice meeting other people who like the things you like and pursue the same huge aspirations. I call other writers my favorite kind of friends because they don't raise their eyebrows when I tell them what I hope to accomplish with my writing.
Other writers, well, they are my tribe. My cronies. They're co-conspirators in the writing world.
You have them too. Right now, list out anybody you have that supports you on this level in your life. People whose outlook supports big, out-of-the-box, quality-of-life decisions.
If you don't currently have friends who are writers, go get some. Look into local writing groups or online writing groups. Anywhere you can gain support. Because I can tell you from experience, this support system is priceless.
Share thoughts and comments below. Tomorrow, I'm going to tell you how to let your freak flag fly. Meaning how to be true to yourself as a writer in the New Year.

The Professional Writers' Alliance
At last, a professional organization that caters to the needs of direct-response industry writers. Find out how membership can change the course of your career. Learn More »

Published: December 31, 2015