Live: The Barefoot Writer December Issue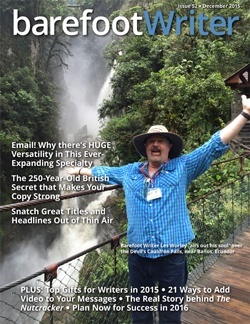 "Plans have a funny way of forcing action."
That key phrase alone could change the whole trajectory of your writing career. That's why we made it our goal this month to share our best tips on planning and preparation.
When it comes to achieving your writing goals, there's no simpler step you can take — not to mention one that will have more impact on your long-term writing career.
Let December be the month you celebrate your past successes and plan for an incredible New Year. We'll show you how, thanks to the following lineup of expert advice:
The 250-year-old British secret that will make your copy strong — p. 26
Best techniques for time management — p. 39
One simple thing you can add to any email that boosts value and keeps you ahead of the competition — p. 29
Expert insight into three critical business-building skills all freelance writers should master — p. 9
Why persuasive skills give you the confidence to just ask (and get) what you want — p. 40
Plus, check out our exclusive interview with writer and Internet marketer Brian T. Edmondson. He shares killer insight into how you can tackle massive jobs like writing a book or building an email list.
Click here now to read your December issue of Barefoot Writer.

The Professional Writers' Alliance
At last, a professional organization that caters to the needs of direct-response industry writers. Find out how membership can change the course of your career. Learn More »

Published: December 4, 2015