Sharing Your Writer's Life with Your Family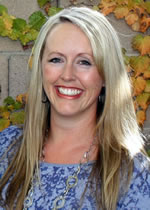 Mindy McHorse
If you ask my husband, Craig McHorse, about what it's like living with a writer, which isn't always easy, he would tell you that it's been an incredible, crazy journey. But he'll also tell you the same thing I mentioned in yesterday's essay … that being a writer is about being true to yourself.
I didn't know that at the beginning of my journey. You see, I was supposed to be a doctor. I took all the prerequisites in college, and would get excited when Craig got hurt playing sports because I got to be the one patching him up.
Can you imagine Craig's surprise the day I came home and showed him a letter I received from AWAI about becoming a copywriter?
Craig has always supported me and this was no exception. But since he didn't know many successful writers, he wasn't sure what to expect. He pictured me as the female version of Chandler Bing on the Friends sitcom. Remember the episode where he quit his day job to be a writer and wound up just hanging around the house in grunge clothes?
A couple of years went by. I made next to nothing in income. I was happy but Craig often wondered if I should get a second job.
Then things began to happen. I started landing paid projects. Soon I had paid jobs lined up back to back. We used that money to pay off some debts. And my writing income kept growing.
That's when Craig knew that I didn't need to get a second job.
But here's what Craig noticed that was just as important as the money: My confidence was growing day by day. In the beginning, the only person I talked with about my writing goals was my husband. But with each new project, I shared what I was doing with others.
Now we have friends and neighbors wanting to know what I do, and how they too can get started.
Besides the money and confidence, there've been other bonuses that living the writer's life provides. For instance, I love the flexibility I have when it comes to volunteering at our kids' schools. I also meet my husband for lunch a lot. And if one of our kids get sick, I am able to take care of them.
Something else my husband Craig would tell you too is that our outlook is different from the way other couples think. If friends of ours want to make a big purchase, they think in terms of how many years of savings it'll cost them.
If we want to make a big purchase, all I have to do is put together a list of possible projects, suggest them to my clients, and when they say yes, make it happen.
Craig would tell you there are little drawbacks, for sure. Like when I add punctuation to his text messages. Or days when I am in deep on a big project and I send him demanding texts: Bring me pie! I need coffee!
Demands aside, Craig has watched me grow from timid and cautious to optimistic and resourceful. He says my confidence is reassuring. Sexy, even. (Can I say that? I hope I can say that.)
Craig is my biggest supporter. I hope you have someone in your life you can open up to about your own writing goals.
There's one other thing I want to share with you that could help you start your writing career. At the start of each New Year, I sit down with Craig and outline everything I hope to accomplish.
It's his job to reign in my list to something doable. The sky really is the limit when it comes to what you can do to make money as a writer. We've figured out over the years how to merge our family life and time constraints with my unlimited goals.
Here's what I hope you'll take away from my message: Pick someone supportive in your life and open up about your writing goals. Say it all out loud and listen to their feedback. Writing is part-career, part-identity, and sometimes it's hard to separate the two. Sometimes outside perspective helps.
You can share comments or thoughts on this message below. Tomorrow I'll share with you what I call "the truth" behind living the authentic writer's life.

The Professional Writers' Alliance
At last, a professional organization that caters to the needs of direct-response industry writers. Find out how membership can change the course of your career. Learn More »

Published: December 29, 2015