Why it Matters to Have View of Your Future Writer's Life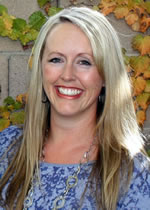 Mindy McHorse
Today I want to ask you an important question: Ever wonder what a real writer's life looks like? Yesterday I gave you a glimpse into mine, but it's worth YOU taking the time to think about it. Because even if you don't fit the idea of what a writer's life should look like … you may have already constructed the perfect writing life for you.
The thing is, a lot of us have this picture in our mind of creating masterpieces at a well-appointed desk in a room lined with bookshelves. Or maybe your vision is of piles of paper dotting the floor while you stare off into the distance with your finger at your cheek and your feet propped up on the desk as you ponder life.
I wish I looked that cool. Here's the truth:
My desk is usually speckled with a smattering of pie crumbs, crumpled to-do lists, multiple glasses of water, a lotion bottle or two, used coffee pods, and various knick-knacks. Behind me sits a serene water fountain statue I named Annadade. She's kept company on either side by piles of catalogs, bills, correspondence, and notes for future projects. Half-chewed dog bones are strewn across the floor, and art from my kids lines the walls.
I'm typically in yoga pants, a faded sweater, and slippers, my hair tied back in a knot or tucked up under a cap.
If any of my clients knocked on my office door right now, I'd probably hide under the desk. No way do I present a picture of a poised writer whose biggest distraction is a slew of imaginative thoughts and wordplay.
And yet, I'm 100% content with what I have and where I am. My office may look messy on the outside, but it's lined with inspirational treasures that detail my writing journey. It took me a while to get here, sure. But that goes back to my message for you this week about being okay with who you are as a writer and finding your own authenticity.
I may not look fancy or poised most days. My husband even once asked me what I was so dressed up for the day I put on jeans.
But the way I see it, the 20 minutes it would take to bother with hair and makeup each morning are more valuable sitting at my desk, creating. I get to work daily with fascinating, inspirational people (who can't see me, thank heavens). I come and go as I please.
My life as a writer may not be photo-worthy, but it's "life-worthy." Which makes me happy, which translates to greater motivation and focus when I sit down to work on projects.
Ask yourself today what it would take to be content in your own writing space. Don't worry about trying to fit the mold of what a writer should look like, or where you should do your work. If you put aside self-criticism and complaining, it leaves you wide open for honest and sincere appreciation.
And that's a key step to success as a writer, for this New Year and all the years yet to come: Appreciate your writing talent and be grateful for all the ways you can profit from it.
You're already who you were meant to be as a writer. No fancy desk or assumed façade can change that. Your best bet is to hone your talent and apply it every chance you get.
Please share your comments and thoughts below. Tomorrow, I'll share more of Craig's tips for gaining outside support for your writing goals.

The Professional Writers' Alliance
At last, a professional organization that caters to the needs of direct-response industry writers. Find out how membership can change the course of your career. Learn More »

Published: December 30, 2015