A Simple Marketing Secret for Landing New Clients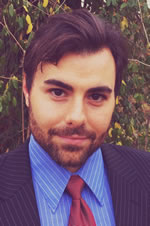 Joshua Ford
Hello Fellow Copywriter …
Joshua Ford … back again with the 4th day in this week's TWL series dedicated to Bob Bly's "Client-Getting" secrets.
I'm writing this series to share some of Bob's tips and secrets for getting clients, an important aspect of your copywriting business.
Yesterday we discussed how to use your website to convince and convert clients … along with how to avoid being the dancing monkey.
I shared Bob's secret on how keeping a 2x lead pipeline with allow you to be more selective when choosing the clients you take.
We also looked at how choosing a niche can set you apart, elevate you to expert status, and ultimately get you more clients.
Today I would like to share one of Bob's secrets for attracting, qualifying, and generating new leads …
Create a Lead Magnet to Capture Leads
A lead magnet is something you create and offer for free in exchange for your prospects contact information.
This could be a free e-book, report, video … anything that your potential client would find interesting or helpful … and that positions you as an expert.
An important part of the persuasion process is having the ability to follow up. To stay in front of your prospect. To be "top of mind."
You're better able to do this when you have the ability to capture leads and stay in touch with them.
What else can your lead magnet do for you … other than generate leads?
You've probably heard how important first impressions are … and that you only get one chance to make a first impression.
Well … your lead magnet can be used to help you make a good first impression.
You can use it to communicate and show off your knowledge … to display and establish your expertise.
This can boost your credibility in the eyes of your prospect.
You can also use your lead magnet to filter and qualify leads …
Bob says one way to do this is to ask for more contact information. You can also ask them to check a box indicating the reason they're requesting the lead magnet.
The more information the lead gives you … often the better the lead. Doesn't guarantee it's a good lead, but it's likely better than a lead who only gives you his email.
Bob has several ways for getting the most out of a lead magnet …
One way is to put a price on the lead magnet. This increases the perceived value of your free offer. It also helps if you really do sell the lead at that price.
Well … these are few of Bob Bly's tips on creating and using a lead magnet to get more clients …
I hope you found these tips helpful. If you want more detailed ways of easily attracting new clients, you can check out Bob's program right here.
Let me hear your thoughts … just scroll down and post them in the comments section below.
Coming up tomorrow … one more Bob Bly "client-getting" secret.

The Professional Writers' Alliance
At last, a professional organization that caters to the needs of direct-response industry writers. Find out how membership can change the course of your career. Learn More »

Published: January 28, 2016