Live: The Barefoot Writer January Issue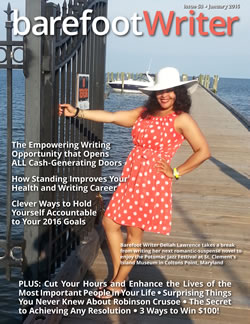 Welcome to 2016!
There's something tantalizing about the first few days of a New Year. Goals are fresh, plans are unblemished, and anything is possible.
And this year … anything IS possible. At least, as far as your writing goals go. The gains (both in career and money) we saw our family of Barefoot Writers make last year were awe-inspiring.
We watched as scores of your fellow writers landed first clients and dream clients (perhaps you were one of them?). We applauded as our members found freedom and flexibility in their daily schedules. We cheered when they told us how much they now LOVE the work of earning a living.
And it's all thanks to the many opportunities in writing.
So that's where we focused our efforts in this newest issue of Barefoot Writer. Some of what we highlight this month includes:
The single most empowering writing opportunity and why it opens all cash-generating doors
Why rewards are just as important as goals
Clever ways to include your family in your writer's life
How one simple, physical action could improve your health and boost profits
The power of story and how one man used it to revolutionize an industry
Plus, we're thrilled to introduce you to Sandy Franks, a highly-respected expert in marketing and writing, plus a successful author and publisher. You'll love the profound insight she shares on success as a writer.
Click here to access your subscription.
Not a subscriber yet? Click here to learn more about becoming a member of The Barefoot Writer and start living the lifestyle you want by writing.

The Professional Writers' Alliance
At last, a professional organization that caters to the needs of direct-response industry writers. Find out how membership can change the course of your career. Learn More »

Published: January 4, 2016