5-Step Revision Process for Stronger Copy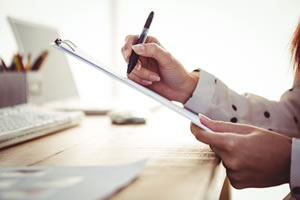 "If it sounds like writing, I rewrite it." — Elmore Leonard
So should you.
A writer's job is to clearly communicate an idea, a message, a story. This is true whether you're writing web copy or anything else. And, to clearly communicate, your writing must be easy to read.
That's what the revision process is all about — making sure your copy is clear and easy to read.
Here's the 5-step revision process I use to make my copy as clear and strong as it can be:
1. Print It Out
For me, looking at a hard-copy printout of my writing makes it more tangible. The mistakes are easier to see … and fix.
As I review the printed copy, I look for words and/or phrases that are awkward or used repeatedly. I evaluate the flow and pacing of the piece, including the visual flow. For example:
Are all the paragraphs the same length, or is there a good balance between longer and shorter paragraphs?
Same with sentence length and structure. Is there a pleasing combination of simple and complex sentences?
Are important ideas or messages highlighted by bold text or by one-sentence paragraphs?
Instead of red, I use pink or orange ink to mark corrections and areas that need work. Pick a bright color that makes you happy. Because it should make you happy to see your editing marks … that means your finished copy is going to be better, stronger, and more effective.
2. Read It Out Loud
Reading your copy out loud is another sure-fire way to spot awkward words or phrases. Do you sound natural, or does it sound like you're trying too hard? Does it sound like conversation? Or, does it sound like writing?
Our goal is to make our copy sound like a natural conversation between friends. Speaking your written words shows if you've accomplished that.
You may also discover choppy transitions or ideas that need further explanation. I often do.
I read out loud from the printout, so I can quickly note spots where I stumble or hesitate in reading. I don't stop and fix whatever's wrong right then. I just circle the words, or use an arrow to point out the paragraph, so I can easily come back to it and fix it later.
3. Proofread Backwards
This is a copy editor's trick, and it works because you force yourself to see what's really there instead of letting your mind fill in the blanks or skim over words.
To illustrate the power of our mental conditioning to auto-correct and read what should be there, not what necessarily is, read this:
Yuo prbobaly cna raed tihs eevn wtih teh ltetres mxied up. Rhgit?
This is an extreme illustration, but I bet you didn't have much trouble reading it. Just in case, here it is all cleaned up: "You probably can read this even with the letters mixed up. Right?"
Granted, spellcheck will catch most spelling errors. But, what about those words that are spelled correctly but which aren't the correct word for the context? Your mind auto-corrects those, too.
Words like there, their, and they're. You're and your. To, too, and two.
Spellcheck won't catch those mistakes. You have to.
4. Check Readability
Readability is how easy it is for a reader to understand a piece of writing. Vocabulary, sentence structure, and grammar all contribute.
In addition to reading it out loud and subjectively trying to determine how easy my writing is to read and understand, I also find it helpful to get a Flesch-Kincaid Score (F-K Score). The F-K Score reflects the grade level of the writing, or the amount of education required to easily understand it.
Remember the game show Are You Smarter Than a 5th Grader? As a writer, you should be asking, "Would a 5th grader be able to read this?" Or, more accurately, would a kid in his early teens be able to read and understand this?
An F-K Score of 6 to 8 is generally considered the ideal target for web copy as well as other sales copy. (This article got a 6.2 F-K Score.)
If you use Microsoft Word, the easiest way to determine your F-K Score is to run a "Spelling & Grammar" check. Just be sure you've got the "Show readability statistics" option turned on first. (You can find this by going to File > Options > Proofing.)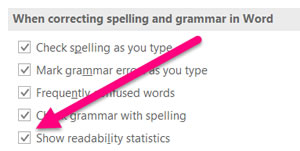 If your F-K Score is higher than 8, look for big words you can replace with shorter, easier words. Shorten complex sentences, or break them into two or more simpler sentences.
Making passive sentences active also will improve your readability and make your copy stronger. For example, "They all had fun" is better than, "A fun time was had by all."
5. Let It Sit Overnight and Repeat
After the first four steps, I put the piece away and let it sit overnight, or at least for several hours. This gives me the distance I need to be more objective.
If you've ever been part of a copy review team, you probably noticed it's much easier to critique and evaluate someone else's writing. This is because you're not emotionally invested in it.
You have to get the same distance from your own writing. You need to see it through fresh eyes. I almost always find something else to revise when I go through the process again the next day, and I bet you will, too.
KISS Your Copy
Think of the revision process as KISSing your copy. KISS stands for Keep It Succinct and Simple.
Dr. Seuss once said, "The writer who breeds more words than he needs, is making a chore for the reader who reads." You definitely do NOT want reading your copy to be a chore!
The more you KISS it … the more you edit and revise using these steps … the stronger it will be.
I'd love to hear what you think of my revision process! Please leave a comment below.
This article, 5-Step Revision Process for Stronger Copy, was originally published by Wealthy Web Writer.

The Professional Writers' Alliance
At last, a professional organization that caters to the needs of direct-response industry writers. Find out how membership can change the course of your career. Learn More »

Published: February 17, 2016